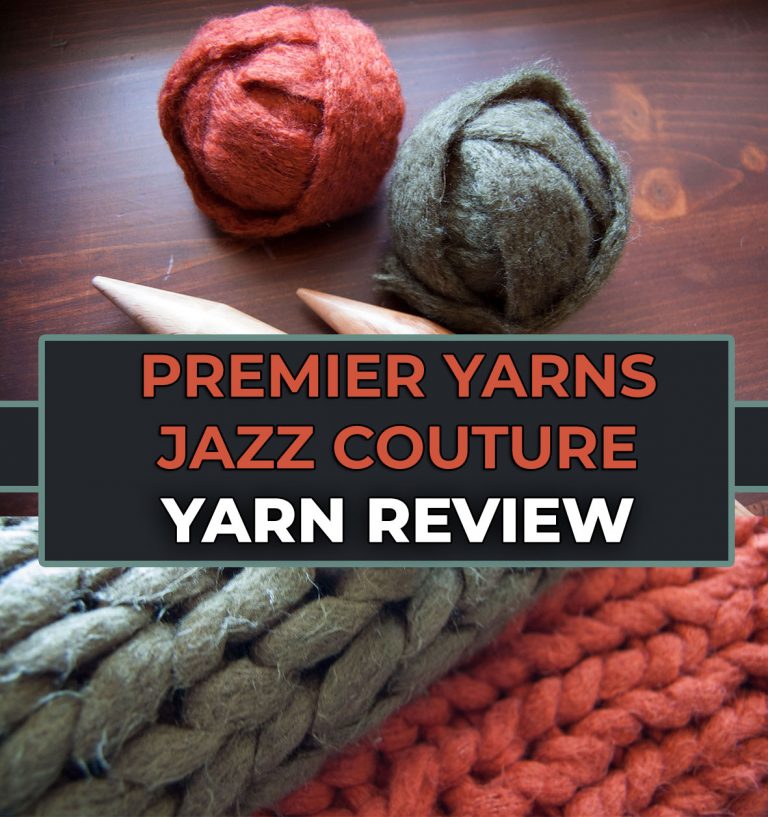 Premier Yarns Couture Jazz Review
Premier Yarns Couture Jazz Review
This is going to be one of the few posts where I am writing long after the yarns original purchase (2 years), with knowledge of the finished product in mind. Normally I would have separate posts for each stage of the process: purchase, project & review. But this yarn actually represents a rough part of my life. I felt it was appropriate to go back and write a Premier Yarns Couture Jazz Review all in one post.
The Dawn of Extra Bulky Yarns
It was sometime around 2014 that I started seeing these huge, chunky knit blankets all over Pinterest and I fell in love. But they were all Merino wool and several hundred dollars. Definitely not something I could afford, and even if I could, my new dog Chelsea would likely destroy it.
I was rarely crocheting at this time. I hadn't even begun to knit and I was out of the loop when it came to yarn purchasing. It wasn't until mid to end of 2017 that I was even aware the yarn industry had caught onto this chunky blanket trend and had started offering extremely bulky yarns to DIYers like myself.
My first bulky yarn purchase was the Bernat Blanket Bulky that they offered seasonally. I bought large knitting needles and everything to knit up a huge chunky blanket that was full mistakes. I probably wouldn't have even managed to finish it, except for my eldest dog Chloe was beginning to have seizures and required constant supervision. The seizures left her restless and confused, but eventually she would settle down and nap beside me, giving me time to work on my large blanket.
Knitting for Mental Health
There are many studies about the mental health benefits of hobbies like knitting, and I was experiencing this first hand. Chloe's health got worse quite rapidly. My huge blanket was only finished for about 2 weeks before she passed. During those last two weeks she and her canine sister Chelsea would fight over who got to sprawl over the comfy blanket. I have a photo of her peacefully napping on the chunky monstrosity the day she died.
Less than a week after Chloe passed, the other fur-kid Chelsea got bit by the neighbor dog. On Christmas Eve no less. Word of advice – immediately take your dog to the vet for antibiotics no matter how large the bite is. We got a whole string of bad advice from neighbors and the receptionist at the vets office. What could have been a small bite without stitches turned into two rounds of stitches, vet trips twice a week and a whole month of keeping my dog off her feet while she was in a leg cast!
Chelsea has always been a nervous one. The bite recovery process was difficult. I had to sit next to her the entire time because it was the only way to keep her calm. I sat next to her on the floor, slept on the floor, did everything on the floor with her for a month. Needless to say, I did A LOT of knitting. With Premier Yarns Couture Jazz. Took me long enough to get there, huh?
Premier Couture Jazz Yarn Purchase
Couture Jazz was one of the main yarns recommended by arm knitters online at the time. It had the smoothest look, just like those bulky roving merino yarns. After poking around for the best price, I ordered two different colors from Knitting Warehouse where the yarn was $5.49/skein (regularly $6.99 elsewhere). The arm knitters were using about 6 skeins to make large blankets and that's what I ordered (12 skeins total). But I used large knitting needles instead of my arms. That thing called "gauge" was off and my blankets turned out much smaller.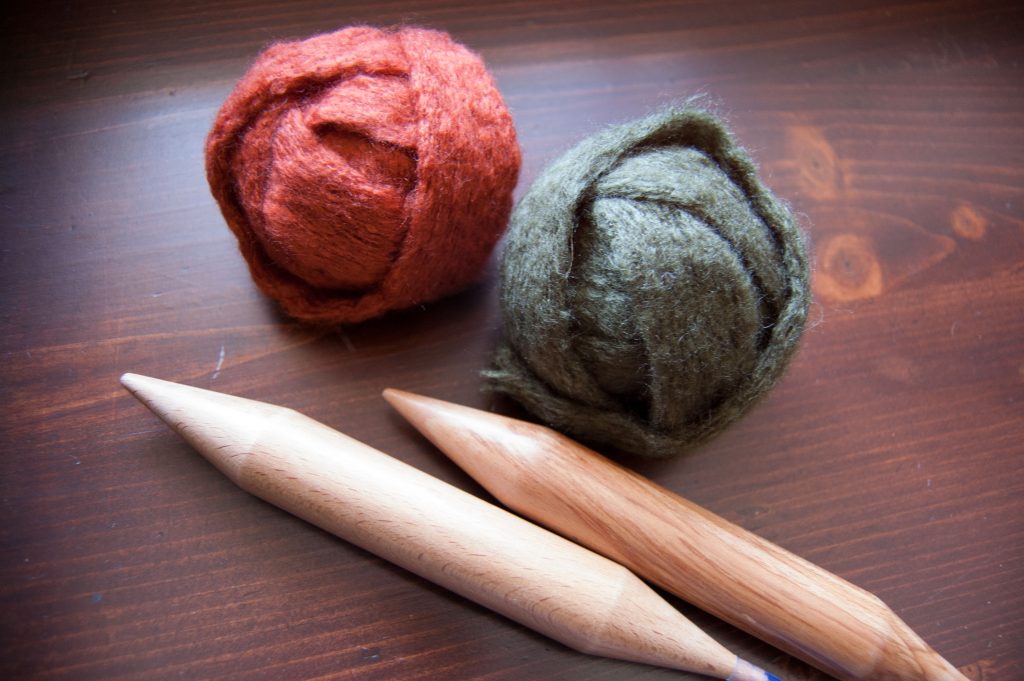 In the entire month I spent on the floor, I knit two blankets. I'd look at them, see all the mistakes. Having more time to spend on the floor, I would re-knit them each a second time. I really got to know this yarn in that time and in the time since. Would I repurchase the yarn? Let's talk about that.
The Premier Yarns Couture Jazz Review
Pros: I don't see many acrylic yarns that actually recreate the look of some of the luxury bulky merino blankets. Couture Jazz doesn't have a super visible ply and is actually able to provide that roving look. It really truly is a unique yarn, as YarnSub.com has very little in the way of a true substitute.
Cons: In spite of being acrylic, this is not listed as machine wash and dry. It is recommended that you hand wash and dry flat. Additionally, it is a flat yarn and not round. It has a definitely direction to it. This means that as you are knitting it you have to make sure the yarn lies a certain way or else there are visible twists that are about as much of an eyesore as actual twisted stitches.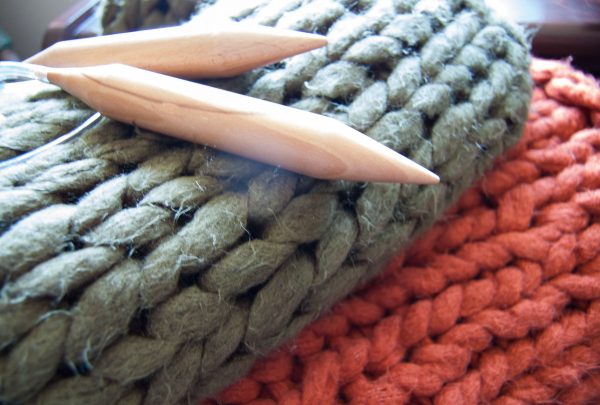 Knitting with this was very slow due to the directional nature of this yarn. As a beginning knitter that was already struggling with making sure I didn't twist stitches as I'd accidentally drop them from the needle. The directional nature definitely added an extra level of complexity.
Premier Couture Jazz Affordability
Premier Couture Jazz wasn't actually that affordable at a sale price of $5.49/skein. Each skein only contains 16 yards, making it cost a whopping $0.34/yard! You can make a small lap blanket for about $30, but it won't look nice for very long and it will be a bit of a pain to work with.
That said, bulky yarns are definitely a great way to start knitting, especially if you're starting out knitting in continental style. If it were not for the month I spent knitting and re-knitting the Couture Jazz blankets, I would not have mastered the mere motions of knitting to make it to where I am now.
Premier Couture Jazz Durability
I still have the two blankets I knit and they have held up alright over the last two years, but they have only received light use. If you have anyone in your household that is even slightly rough on blankets, they begin to deform quite easily. The yarn began to fuzz and pill very early on as well. I would not rank this as a durable yarn and certainly wouldn't use it for children's blankets.
This yarn is so unique I may encounter a project someday that won't work with anything other than Couture Jazz. But when offered a reasonable alternative, I will not be repurchasing this yarn due to low overall value (high price per yard) and longevity (wears quickly). However, Premier Yarns Couture Jazz will always stick in my memory as the yarn that got me knitting.
---
Featured in this Post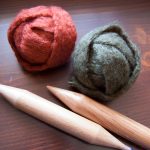 Jazz is truly a unique yarn. But if your pattern allows for substitutions, we'd recommend you find something that wears a bit better. We didn't use a pattern for our blankets, but check out all these great chunky blanket patterns at Lovecrafts!