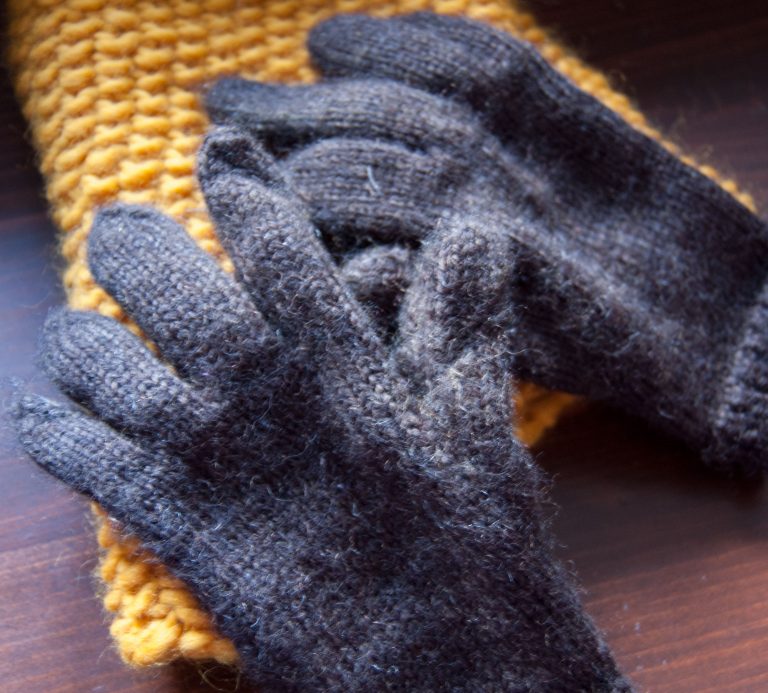 Convertible Glove pattern in Wool of the Andes
Convertible Glove pattern in Wool of the Andes
I walk my dog every day, rain or shine. Which in the Pacific Northwest means mostly in the rain. The assumption I often get from people who don't live here is that it can't be that cold if it rains instead of snows.I must rarely use gloves and hats and the like. Right?
Wrong. Particularly when it comes to gloves. My fingers have always been very sensitive to the cold; combine this sensitivity with the deep, biting, soul-consuming cold of high humidity and I am numb within 10 minutes of being outside.
Why You Need Convertible Gloves
The problem that I encounter is that gloves do not make it easy to do normal dog walking things – using poop bags, giving treats, etc. You may be thinking, "Tipless gloves are perfect, that's what I use". I made a pair of Treads and tried them out for awhile. My exposed fingertips were absolutely miserable.
The perfect solution is something that most photographers are going to be familiar with – gloves with tips that flip on and off as needed. Often these are simply referred to as photographers gloves. They're like these gloves, available from B&H Photo.
After making my Treads tipless gloves, I had some ideas floating around in my head on how to knit a pair of photographers gloves. Once I got to knitting, they turned out great.
The Dog-Walking Glove Knitting Pattern
Today's project is a shameless plug for my glove knitting pattern added on Ravelry. It is absolutely free, since it has not been tested by anyone other than myself. And if it appears to resemble another pattern out there, I can assure you, this originated in my own noggin. Great minds must think alike!
These gloves work up like any old glove (tipless or otherwise). Feel free to use your favorite glove pattern to start. The key is when you get to the finger tips of the gloves, you need to follow these steps:
First, bind off half the stitches on the pad side of your fingertips. On the very next row you are going to provisionally cast on the same number of stitches as what you bound off. From there, finish off the tips of the fingers as usual.
Once you've completed the fingertip, you'll come back to the slit near the base of the fingertip. Pick up the stitches in your provisional cast on and knit for a centimeter or two. This creates a flap that covers the hole in the finger. The flap will be loose, but you'll stitch it to the the finger when you weave in your ends. Overlapping the fabric keeps your fingers warm while allowing you to flip the tips off when you need dexterity.
Knitting the Dog Walking Gloves
I made the convertible tips on my thumb and pointer finger, but you could do this on any number of fingertips. If making another pair, I would create the overlap between the tip and the base of the finger longer. My overlap was only about a centimeter in length. I think two centimeters would have provided better results. Finally, finishing off the tips differently would have provided a neater look.
I used some Knit Pick's Wool of the Andes Superwash for these gloves, but next time I'm going to try making them with some Red Heart Heat Wave. The wool yarn is great for this project, but it still doesn't keep my fingers quite warm enough. If Heat Wave really does make you feel 12°F warmer as advertised, it'll be perfect for another pair of these gloves.
Have any questions on this pattern? Please reach out on Ravelry and I would be happy to help as best as I can. If you make a pair of your own, please let me know how it turned out and send over a picture. I'd love to see your projects.
---
Featured in this Post