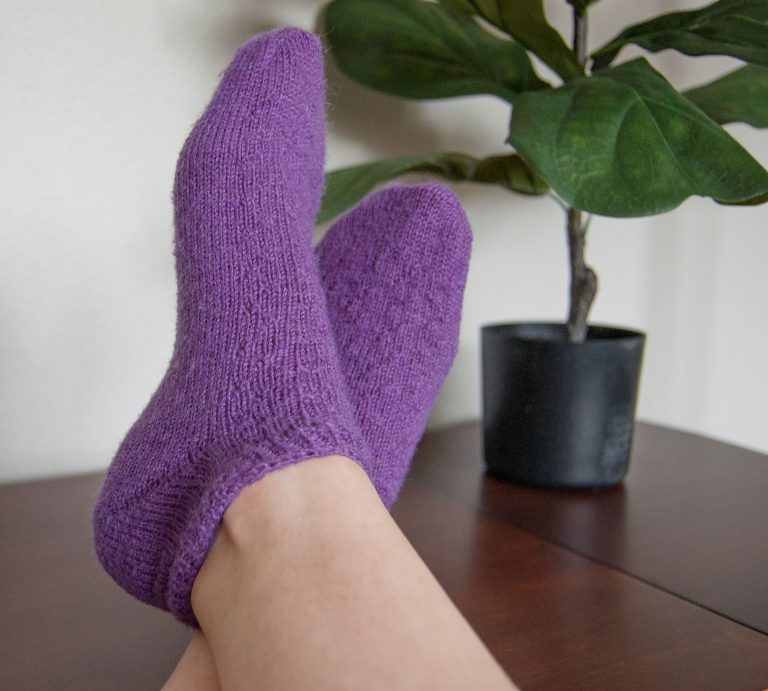 Strawberry Fields Socks in Lion Brand Sock-Ease
Strawberry Fields Socks in Lion Brand Sock-Ease
For many of us, socks aren't much of anything to get excited about. Commercial socks all fit about the same and they all seem to wear out in record time. But they're not that expensive so we just keep this cycle going without giving it much of a second thought. The idea of knitting my own socks took me down a rabbit hole that ended with the Strawberry Fields sock pattern.
Why would you knit your own socks?
When I first thought about knitting socks, it sounded like a lot of work for something that would wear out so fast. I did some research and if you knit a sock to fit properly, you can actually get socks to last longer! Apparently even the slightest variations in sizing allow for movement that contributes to the overall wear. Not to mention, your typical handknit socks are going to be a bit thicker than the 6 pack you bought online.
When your socks do finally get holes, you can repair the holes by darning. You can put that sock back into your rotation, good as new. In a world that is constantly reminding us to make environmentally conscious decisions, should we all prioritize hand knit socks?
Sock Knitting Frustrations
Philosophical musings aside, making socks is a skill I want to try and master. I purchased some Lion Brand Sock-ease in Grape over a year ago with this goal in mind. At the time I had a pair of cheap bamboo circular needles. Even the process of casting-on was unbearable and difficult. I felt like there was no way I could ever master working with such tiny yarn and find sock knitting enjoyable. I ripped out my meager 2 or 3 rows and moved onto a different project.
Since then I've purchased the absolutely amazing Chiaogoo Twist interchangeable knitting needle set. There is plenty of shared wisdom about always using the right tool for the job. Sock knitting is absolutely 100% one of those situations. Having the right knitting needles provides so much value it is absolutely worth it if you are interested in sock knitting.
Another barrier to my initial attempts at sock knitting was all the different heel methods. There are so many ways to structure the heel of a sock and many patterns just say to use your favorite heel method. This made my pattern search even more difficult. I couldn't just look at what I thought was pretty, I also had to consider what heel type was beginner friendly, which had a better fit, etc.
The Strawberry Fields Sock Pattern
As a lover of short socks, I knew I found the perfect first pattern when I stumbled onto Strawberry Fields by Amber Crawley. The description didn't recommend it as a beginner sock project since it didn't provide details on the heel method. Instead the sock pattern linked to a heel method that spoke to me – the Fish Lips Kiss Heel from Sox Therapist. This heel method claimed to:
Work knitting both cuff-down or toe-up
Leave no gaps
Not use flaps or gussets, so no picking up stitches
Not require any counting (easy TV knitting anyone?)
Create the perfect fitting sock every time.
I was sold. No extra convincing needed.
Strawberry Fields was free, so I immediately downloaded. Then I paid a single dollar to get the Fish Lips Kiss Heel pattern. As a method that can be integrated into any sock pattern I used in the future, it was a dollar well spent.
The Strawberry Fields socks are worked toe up with a very subtle pattern on the top. I worked both socks at the same time using the two-at-a-time magic loop method. Two-at-a-time Magic Loop is very easy once you get the toes cast on. As I got knit closer to the heels I got a bit apprehensive and checked very carefully to be sure I put the heels in at the right point. I had no reason to doubt. The Fish Lips Kiss Heel worked perfectly and was definitely easy enough for a beginner like myself.
My Finished Socks
My socks turned out absolutely wonderful. The only thing I would change or approach differently my next time around is the ribbing and bind off at the ankle. I could have knit a little further before binding off for one. And I believe other knitters have seriously compared the best ribbing for sock cuffs. Just like in yoga, there is always something more you can learn in knitting!
---
Featured in this Post