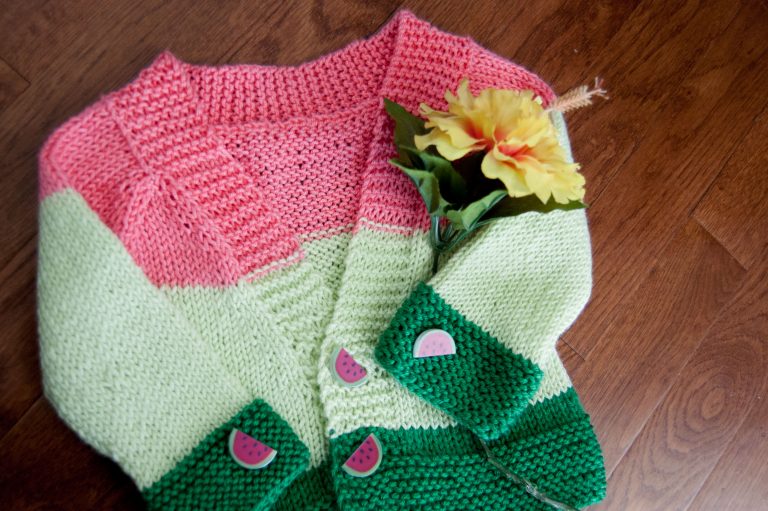 The Undeniably Adorable Watermelon Harvest Baby Cardigan Pattern
The Undeniably Adorable Watermelon Harvest Baby Cardigan Pattern
I only have a few more projects left from the Ultimate Acrylic Yarn Comparison to share, and today's is a TRIPLE threat! Using three of the yarns from the comparison, I knit this adorable, fruity spin on Tin Can Knit's Harvest Cardigan pattern. The three yarns I utilized are King Cole Cherished (light green), Cascade Yarns North Shore (pink) and Lion Brand Basic Stitch Antipilling (dark green).
Tin Can Knit's Harvest Cardigan Pattern
If you've been knitting for any amount of time, chances are you know who Tin Can Knits are. They offer many beginner friendly, free knitting patterns, all with a wide variety of sizes. Just like their Flax Sweater pattern I knit in Loops & Threads Impeccable, their Harvest Cardigan has sizes ranging from 0-6 months to 4XL. If you're looking for a baby cardigan pattern you can master for the ENTIRE family, this is it!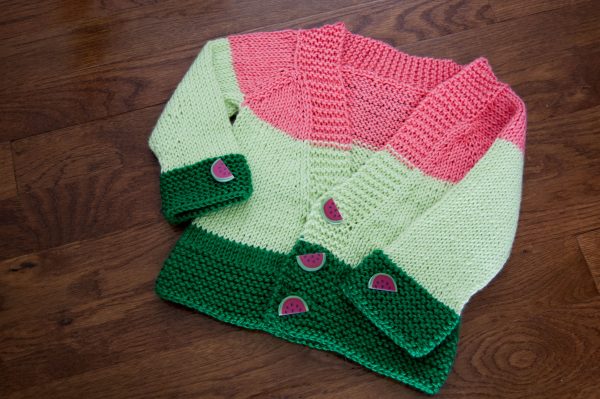 Best of all, this baby cardigan pattern is simple enough that you can make your own variations once you get the hang of it. This pattern has been the starting point for many knitters to put their own spin on things. I've seen versions with different colored collar bands, varying stripes, and even intarsia colorwork on the back!
Check the links at the bottom of this post for a link to the FREE Harvest Cardigan pattern.
My Watermelon Harvest Baby Cardigan
My modifications of this cardigan pattern were simple, as it was my first time knitting it. I have grand plans to make a classier, striped version of this cardigan for my niece, Noelle. But for now I just knit the pattern as directed until I ran out of each yarn. Then, I just switched to the next color! I started with pink to reflect the watermelon fruit itself, followed with light green to mimic the inner white rind before the outer green shell.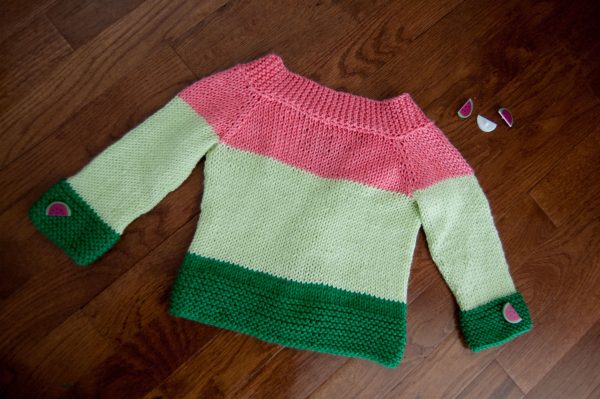 To top it off, I found some super cute watermelon slice buttons at Joann! I know you're going to want these as much as I did, so I'll post a link to purchase these at the bottom of today's post too.
What I'd Knit Differently
Now that I've knit two Tin Can Knit's patterns, I'm noticing that the sleeve lengths are definitely on the long side. That isn't a bad thing, as it's always easy to cuff a sleeve. But my niece grew out of the the Flax Sweater long before her arms ever filled out the sleeves. My sister claims that this could be a difference in how breast fed vs formula fed babies grow, but I still believe the pattern arms are on the extra long side.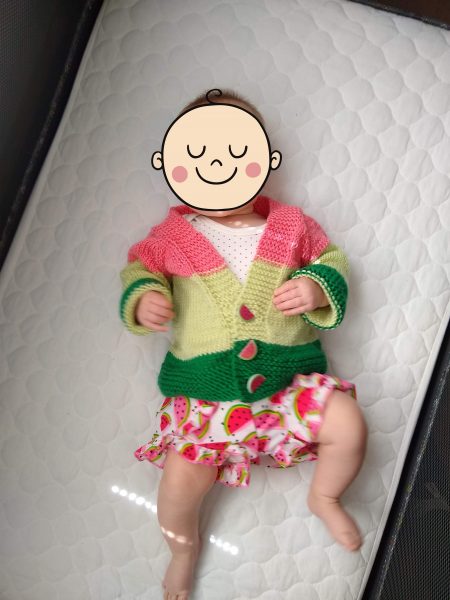 The pattern photos reinforce my belief, as the model has the sleeves coming all the way down to her knuckles. This is something to be aware of if you're not a fan of overly long sleeves. However, this brings me to another one of my favorite things about Tin Can Knit patterns. Most of their directions specify knitting for a certain number of inches, rather than a certain number of rows. Want shorter sleeves? Subtract half an inch (or more) from the length defined in the directions and you are set!
Lastly, I'm not sure I'm a fan of where the button placement is on this baby cardigan pattern. I'm going to have to wait and see how it looks as Noelle continues to grow into her new outfit!
Have you knit the Harvest cardigan? Share your tips and tricks for this pattern in the Budget Yarnaholics group on Facebook!
---
Featured in this Post