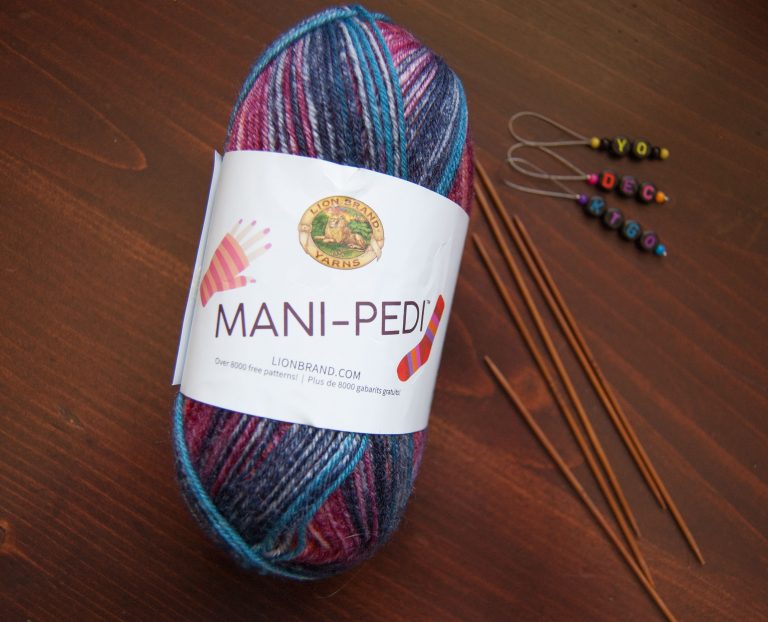 Lion Brand Mani-Pedi Sock Yarn
Lion Brand Mani-Pedi Sock Yarn
Update May of 2021: I found this old, unpublished post from a year ago, and decided it was a good way to break up all the yarn reviews that have been flooding the blog. Perhaps I'll have to do a "big box store" sock yarn comparison soon?
Second Update May of 2021: Lion Brand JUST discontinued this yarn! They also discontinued Sock-Ease, so now Lion Brand no longer has a sock yarn offering available. Cross your fingers they have plans for a replacement?
There is a common saying in the Seattle area that summer doesn't begin until July 4th. The reason being that until then the weather is still mostly gloomy and rainy. I find that I can still catch a chill and need to reach for a hoodie long into May and June depending on the weather. I say this so you know where I am coming from, talking about buying sock yarn when most of you are breaking out the tank tops and thinking about knitting in cotton or linen. So let me introduce you to Lion Brand Mani-Pedi sock yarn! You can find a link to purchase this yarn at the bottom of today's post.
My Prior Experience with Sock Yarns
First lets clarify what I mean by "sock yarn". Some people consider Sock yarn to be a slightly heavier weight fingering yarn specially suited to socks. Often "sock yarn" is defined based on composition – any fiber blended with 20-25% nylon for added durability. These are more open ended definitions than yarns that literally say "sock" somewhere on the label.
For today's purposes "sock yarn" will mean any yarn that says sock on the label. I've worked with several fingering weight yarns that could be considered sock yarns, but I want to exclude those from the discussion to compare "apples to apples".
Thus far I have used Patons Kroy Socks and Lion Brand Sock-Ease yarns. I will use these as a reference when sharing my initial impressions.
Lion Brand Mani-Pedi Sock Yarn
I saw Lion Brand Mani-Pedi while browsing the Joann website. Stay at home orders give you so much time to window shop online. But when I saw a 25% off sale on Lion Brand yarns, window shopping turned into real shopping. I bought 2 skeins of Mani-Pedi in the colorway "Mittens". The label hides the amazing orange and yellow hues!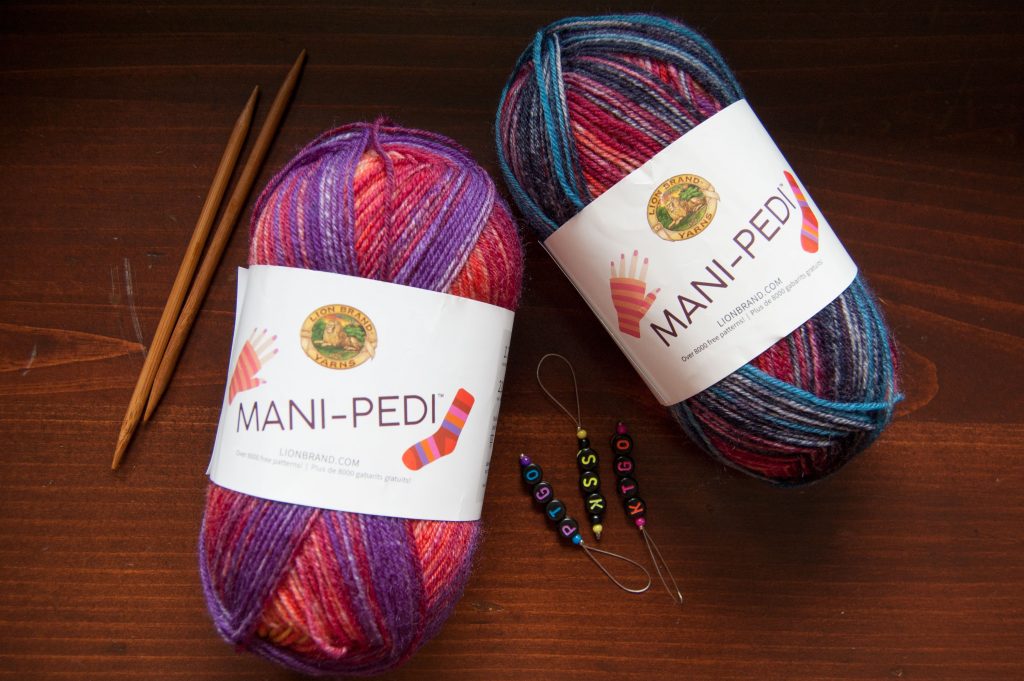 Mani-Pedi meets the compositional definition of most sock yarns, with 75% superwash wool and 25% Polyamide (nylon). These skeins are smaller 50g skeins, each of them containing 219 yards. The recommended price at Lion Brand is $5.99, but Michael's sells it for $7.77 (what? is this an error?) and Joann for $4.99 regular price. For today's price breakdown we will use Joann's price and the common 30% off sale prices they often offer on Lion Brand yarns.
Yarn
Price
Price/Yd
1 Skein Regular Price
$4.99
$0.023/yard
1 Skein w/ 30% Off Sale
$3.49
$0.016/yard
Project
Regular Price
Sale Price (30% Off)
Womens Ankle Socks
(1 skein)
$4.99
$3.49
Full Size Socks
(2 Skeins)
$9.98
$6.98
Large Cowl/Shawl
(3 skeins)
$14.97
$10.47
Early Impressions of Lion Brand Mani-Pedi
Keeping in mind that Lion Brand Sock-Ease and Patons Kroy sock are going to be my primary reference points:
Working in it's favor, Mani-Pedi is definitely softer than Sock-Ease. Sale price or not, Mani-Pedi is only $0.001 more expensive, depending on where you buy.
Mani-Pedi is an iota thicker than Sock-Ease, but both are still thinner than Paton Kroy Socks. Both Sock-Ease and Mani-Pedi are definitely on the lighter side of things for a sock yarn.
Since I already like it better than Sock-Ease, my only complaint is that it is only offered in striping colorways. I'd love to see this in some coordinating solids.
Overall, Mani-Pedi knit nicely when swatching on size 1 US. Having a sample knit up further emphasized how much softer it is than Sock-Ease. But it's still got some of that budget sock yarn feel.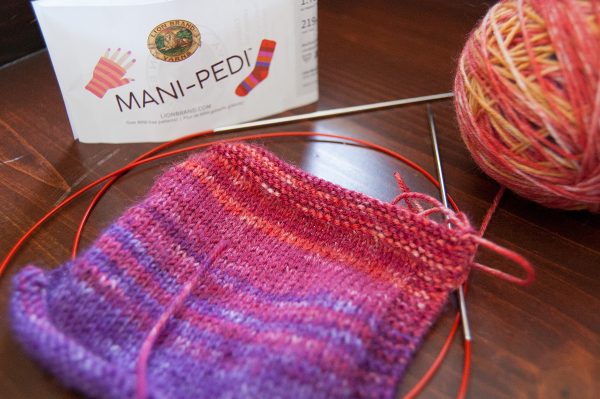 The bold colors of Mani-Pedi have me dying to make something beautiful with it. Is it bad I've got brioche cowls on the brain?
---
Featured in this Post