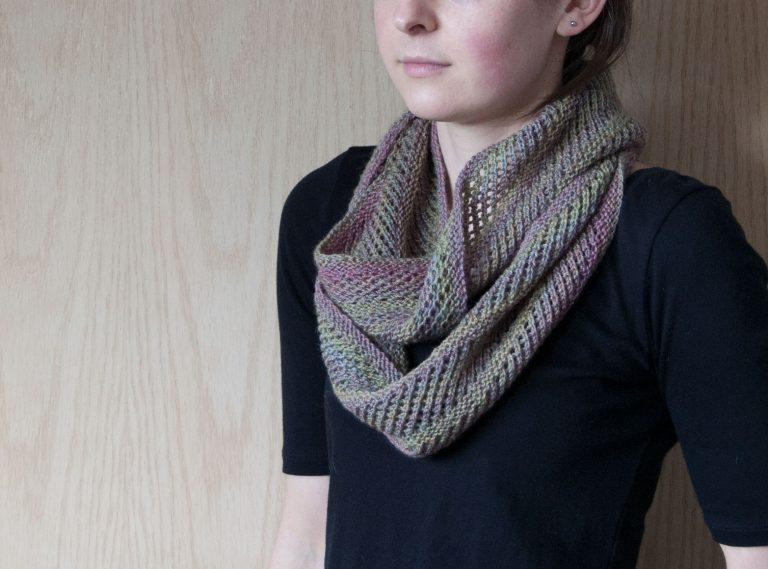 Copilot Cowl for Fingering Weight Yarn
Copilot Cowl for Fingering Weight Yarn
If you have a skein of fancy sock yarn you just don't know what to do with, I've got the project for you – a lightweight cowl perfect for chilly summer evenings. You'll need 100g to knit the full size version, but it's totally possible to knit this cowl with less. I used a partial skein of fingering weight yarn with only 83g. Ready to read about the Copilot Cowl? I'll post the link to Dominique Trad's pattern at the bottom of this post.
The Copilot Cowl – A simple 2 row repeat
Just like the headline says, the Copilot cowl has a very simple 2 row repeat. And you don't need to know any fancy stitches to create this amazing diagonal eyelet. If you can knit, purl, yarn over (YO) and knit two together (K2TOG) then you can make this cowl. It's a great intro to lace knitting in a project that works up quickly.
The best thing about the Copilot cowl pattern is the directions for weighing your yarn at various steps. If you've got a partial skein, or simply want to maximize your skein, weighing your yarn at various points helps you figure out when to proceed to the next phase of the pattern. The primary weigh points are after the garter stitch edging and after every 26 rounds. You're able to then track your progress and make sure you have enough left for that final edging.
My Cowl in Knitting Fever Painted Desert
My skein of Knitting Fever Painted Desert weighed only 83 grams and weighing it throughout the process was critical for maximizing what little I had. The goal was to continue to have a cowl that was long enough it could wrap around the neck three times. I used the same number of cast on stitches from the pattern and simply had fewer repeats of the diagonal lace panels. End result: a cowl that was just as long, but not as wide.
As you can see from the photos, you can still get a great cowl with only a partial skein of sock yarn. But I would highly recommend using a full skein when at all possible. As it is, the Copilot Cowl is lightweight, more suited to spring or fall. By not using a full skein, it doesn't feel anywhere near as luxurious as it could be.
The Copilot Cowl is a great knit that can be done subconsciously while watching television or sitting around at a yarn social event. If you're looking for something more suited to larger yarns, you may also be interested in learning about the Autopilot Cowl I knit up in Berroco Lustra.
---
Featured in this Post