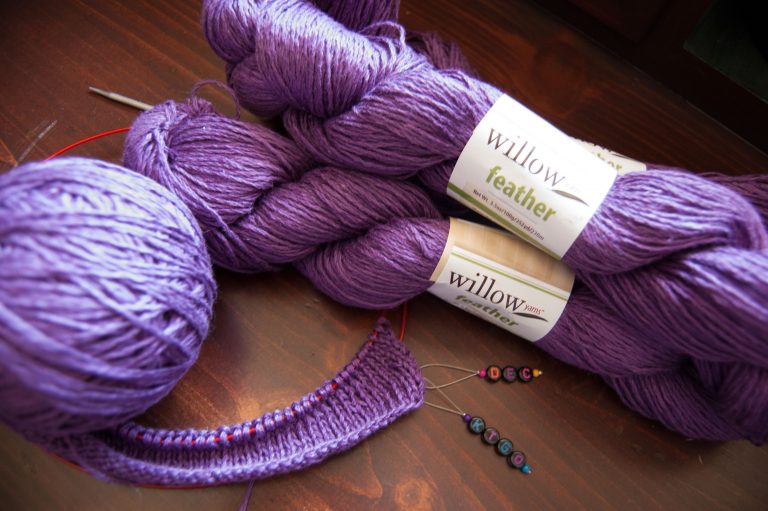 Willow Yarns Feather Linen Yarn
Willow Yarns Feather Linen Yarn
If you've been browsing through summery top/tank patterns on Ravelry lately, it's likely you've seen at least one pattern designed for linen yarn. But linen yarn can be expensive – how did I find a cheap linen yarn?
Searching for a Budget Linen Yarn
Before I bought Willow Yarns Feather, I didn't do much research on linen as a fiber type. Very unusual for me, isn't it? I had tunnel vision and was focused on finding a yarn that was a decent substitute for the discontinued Classic Elite Yarns Allegoro. It was the recommended yarn in a pattern I was obsessed with at the time so most of my browsing was done via my favorite tool, YarnSub.com.
To be clear, Willow Yarn's Feather is not a recommended substitute for Allegoro, nor should it be. It has far too much linen and not enough cotton. But I started clicking on yarn after yarn, looking at yarn reviews and became intrigued by linen yarn as a whole.
Linen yarn is created from the flax plant; if you see the terms flax or linen, they are virtually interchangeable. The differences begin to appear when you start talking about how the yarn is spun. Linen yarn has three possible spin types: wet-spun, semi-wet spun and dry spun. Each of these methods typically corresponds with a fiber length. For longer fibers, the yarn is typically wet-spun to get a smoother yarn. Semi-wet and dry spun methods usually mean shorter fibers and rougher yarns.
I saw a 100g skein of wet spun linen yarn for $20! Clearly I was going to end up with something rougher if I was going to be buying cheap linen yarn.
Buy Linen Yarn on a Budget at Willow Yarns
If you've searched for linen yarns before, you'll see that depending on the brand, blended fibers, etc a single 50g skein can range from $4.99 to $25! Yes, that $20 wet spun linen skein I mentioned above is not the most expensive linen you can buy. Not what I call cheap linen yarn at all.
Not knowing anything about the fiber, I wasn't going to pay that much at all. Willow Yarns Feather was a much more budget friendly option at a regular price of $8.99/100g. And of course I found it on sale for $3.99/skein.
Each skein of Feather has 252 yards of 73% linen, 27% cotton. You won't find the wide color selection of other brands, but the colors that are offered are well chosen. I got a few skeins of Purple Martin.
| Yarn | Price | Price/Yd |
| --- | --- | --- |
| 1 Skein Regular Price | $8.99 | $0.035/yard |
| 1 Skein w/ 55% Off Sale | $3.99 | $0.015/yard |
| Project | Reg. Price | Sale Price |
| --- | --- | --- |
| A Shawl (3 Skeins) | $26.97 | $11.97 |
| Med. Tank (4 skeins) | $35.96 | $15.96 |
| Med. Cardigan (5 skeins) | $44.95 | $19.95 |
Early Impressions of Willow Yarns Feather
As a complete linen noob, my first impression was that it was very rigid. Did I go wrong trying to buy cheap linen yarn? When I felt the skein, I was skeptical that it could be knit into anything that even resembled fabric. As I began my swatch I could see I was wrong. My swatch was still on the rigid side, but I could see how after some wash and wear it could actually function as clothing.
If you read about linen yarn elsewhere everyone will encourage you to machine wash your finished objects to help soften things up and break in that rigidity. But even after being broken in, linen is supposed to retain a certain crispness. I'm looking forward to how these descriptions translate into real life. Because comfortable, cool & durable are all things I value highly in summer clothing. I'm curious to see how it compares to the hemp yarn I've tried.
I hope to turn my Willow Yarns Feather linen yarn into a top in time to wear it at least part of this summer. Check back to see how I use it! Do you have a favorite linen yarn I should try?
---
Featured in this Post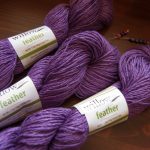 Feather is a very budget friendly linen yarn with 252 yards per 100g. Find this machine washable yarn exclusively at Willow Yarns!