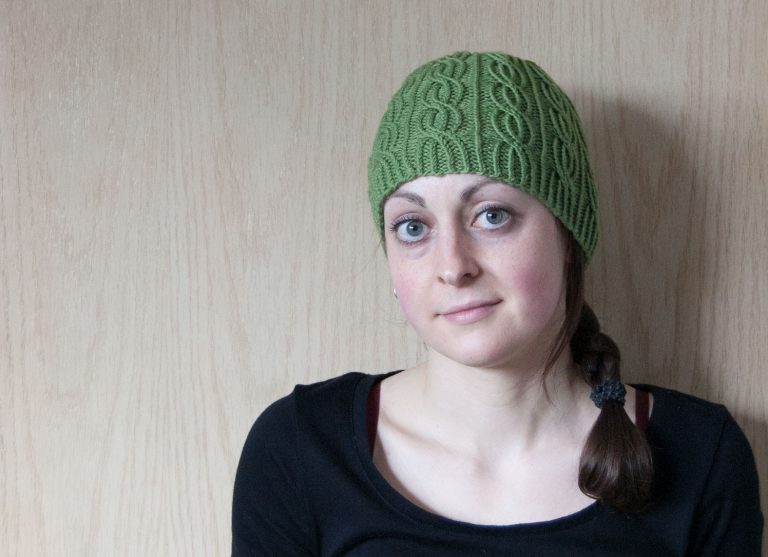 Lina Hat in Louet Gems Sport
Lina Hat in Louet Gems Sport
Today I have a bit of a throwback project to share. I know the weather is finally warm and you may not be interested in thinking about knitting hats. But the Lina Hat is so gorgeous it's worth mentioning regardless of the weather! Find the link to this amazing FREE hat knitting pattern at the bottom of this post.
The Lina Hat
When I discovered the Lina Hat pattern, I had only knit a handful of basic beanies. I had done a few more slightly advanced projects (a dog sweater & hat), but my only experience with cables had been a cable dishcloth. The Lina hat was definitely a little out of my wheelhouse. Featuring several columns of delicate cables, I just knew I had to make this hat. But I knew I might struggle.
In a desire for perfection, I tested out multiple cast on methods to see what I liked. I tried too many and frustrated myself into resorting to the standard Long Tail Cast On. And when I got the cast on count wrong (110 stitches instead of 120) I decided I would forge ahead and deal with the consequences later. The stitch pattern worked in repeats of 10 so this worked out just fine until it came to the crown decreases where I had to get a little creative.
All you need to make the Lina hat is a single 100g skein of sport or DK weight yarn. The pattern specifically says DK weight yarn, but the Louet Gems Sport I used is obviously smaller. Between the lighter weight yarn and missing 10 stitches, my hat is a bit on the small size. Be sure to check your gauge and size up your needles as needed!
Bavarian Twisted Stitch Knitting
I learned long after I finished this hat that the method of "cabling" featured in Lina is actually called Bavarian twisted & traveling stitches. These beautiful and delicate designs are knit without the use of a cable needle. Although there are more complex variations, you typically cross only one stitch over another at a time. But to create the amazing texture, the stitches are knit through the back loop.
I've seen many different terms to describe this technique, from faux cables to twisted-stitch knitting and Bavarian cabling. Whatever you choose to call it, I call it gorgeous.
If you'd like to get a basic start with this Bavarian knitting technique, all you really need to know is how to perform the Left Twist Stitch and the Right Twist Stitch. The YouTube videos from Knit Purl Hunter were very helpful for me! Feeling a bit adventurous? Jump right into the Lina pattern and download it at Ravelry.
---
Featured in this Post