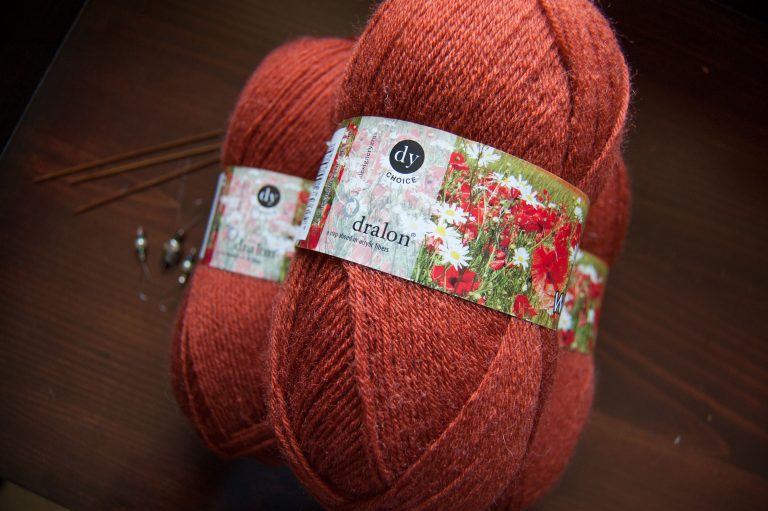 DY Choice 4ply with Wool
DY Choice 4ply with Wool
Today I am going to revisit a yarn I have already mentioned because I'd like to provide more detail on what exactly 4ply yarn is. You may recall when I found a bunch of amazing yarns in a local garage sale. Well, I was too busy writing about the gorgeous metallic Berroco Lustra that I glossed over another yarn: DY Choice 4 Ply with Wool.
What is 4Ply Yarn?
If we're being strictly literal, 4ply yarn is a yarn that has four different plies or strands spun together. Historically, the number of plys conveyed the weight of a yarn – DK weight was known at 10ply, Lace weight was known as 1 ply, so on and so forth. In "olden days", plys were consistently the same size. The more plys you had the thicker your yarn was.
Now days there are so many more construction methods and ply types. The 4ply and 10ply nomenclature can no longer accurately convey yarn thickness. With the introduction of ply's like S on S construction (one of my favorites), you can have so many plies spun together to create a larger ply that is spun yet AGAIN…. it's ply-ception. Or yarn-ception. Or something. Thus we have gone to modern names such as worsted, dk and sport weight.
In modern layman terms, 4ply yarn is basically fingering weight yarn.
DY Choice 4Ply with Wool
I believe DY Choice has discontinued the 4 Ply with Wool, but I've found an English yarn store who still sells it on eBay. I actually ordered three more skeins of Rust since my original purchase just because I love this shade of orange!
4Ply with Wool is 75% acrylic and 25% wool, providing a little more of a natural feel than a straight acrylic yarn. Although you can machine wash it, it is recommended that this yarn be dried flat. You get a very generous 492 yards in each 100 gram ball – so you can tell it is a little on the lightweight end.
Today's pricing table is going to be a bit interesting, since this yarn is mostly sold in England! I'm converting Pounds to US Dollars and using the prices listed on Stash Fine Yarns website. I realize this won't be beneficial to overseas visitors who are actually the most likely to buy this yarn. But the spirit of the blog is to provide yarn reviews and not accurate pricing. So I'm not going to sweat my inability to internationalize this breakdown!
Yarn
Price
Price/Yd
1 Skein Regular Price
$4.34
$0.035/yard
1 Skein Clearance Price
$2.17
$0.015/yard
Project
Reg. Price
Clearance
A Shawl or Socks
(1 Skeins)
$4.34
$2.17
Med. Cardigan
(3 skeins)
$13.02
$6.51
Large Sweater
(4 skeins)
$17.36
$8.68
First Impressions of 4Ply with Wool
This yarn is very obviously a low cost yarn. DY Choice seems to be a common budget brand from the UK. With my limited exposure, I get the impression it comparable to Loops & Threads yarns. A few specifics about 4 Ply with Wool:
Even though it has 25% wool, I don't find this yarn even remotely itchy.
4Ply with Wool isn't splitty on the first knit, but if you have to do any amount of frogging it starts to separate quickly.
Furthering the Loops & Threads comparison – it is thicker than L&T Woolike, less splitty, but may not be as durable (no nylon content).
4Ply is very soft and the wool content gives it that extra bit of springiness that L&T Woolike just doesn't have.
I've started making another Copilot Cowl with the first skein of Rust I bought – check back to see what I do with the additional three I purchased on eBay!
---
Featured in this Post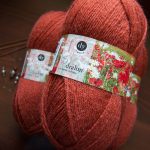 DY Choice 4Ply with Wool
You can still find this discontinued fingering weight yarn at Stash Fine Yarns. If you're looking for a more readily available substitute, check out all the 4 Ply yarns available at LoveCrafts!