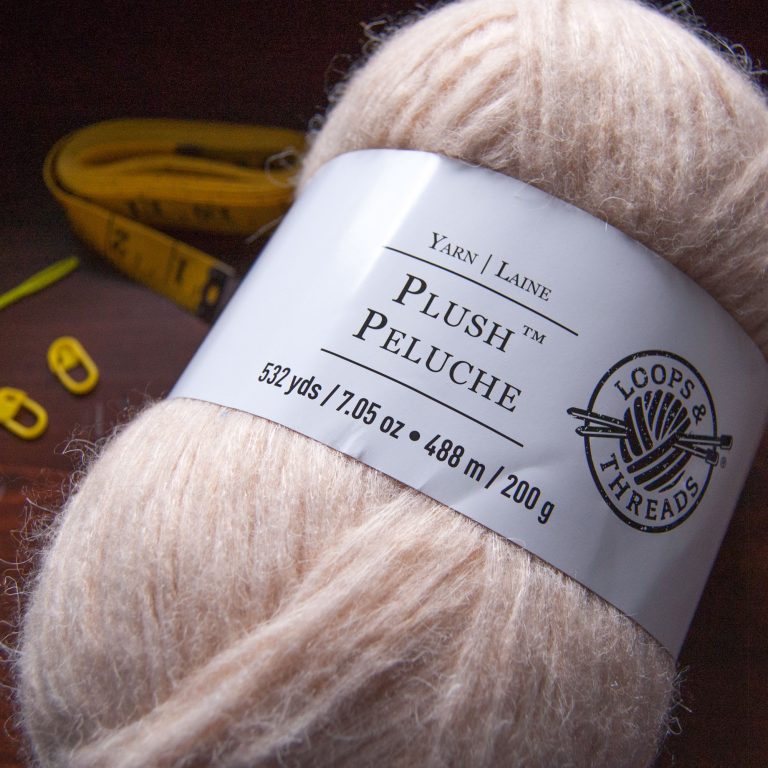 Loops & Threads Plush Polyester Yarn
Loops & Threads Plush Polyester Yarn
I went to Michael's the other day with the intent of checking the clearance for some Paton's Bulky Wool yarn. I found none, but I did find some of the fuzzy, squishy Plush polyester yarn by Loops & Threads. Find a link to buy this yarn at the bottom of our post!
Loops & Threads Plush Polyester Blend Yarn
Plush is the perfect adjective to describe this yarn. I had seen the aptly named yarn online prior to coming to the store and closed my browser tab as soon as I saw the "Hand Wash Cold" designation. Who has time for that? I tried to remind myself that this yarn would likely be inconvenient and be a pain to care for.
Seeing the amazing colorways in person won me over, as did the soft, squishy feel of the massive 7 ounce skeins. Made up of 39% polyester, 29% nylon, 25% acrylic, 7% wool, I hadn't encountered a polyester yarn like this before. Of course I bought a ball of Wine for "research".
First Impressions of Loops & Threads Plush Polyester Yarn
When I got home and swatched my new purchase, the yarn still felt soft and squishy worked up on #9 circulars. Plush was also surprisingly lightweight for a yarn designated as bulky. I am a total amateur when recognizing yarn constructions, but I think the lightweight nature is the result of the polyester fibers being "blown". Once blown, the fibers are combined with a nylon chain. The white nylon chain is definitely visible within the yarn as you are working, but I could be very wrong about the construction of the poly/acrylic/wool. If only YarnSub.com had the yarn in their database! They would know.
I loved the results of the swatch enough I went back and bought a second skein of Wine and two skeins of Toffee. The yardage of each skein is amazing at 532 yards, giving me enough for sweaters, scarfs or several hats. Please check back to see how we use this yarn and don't miss our final budget yarn review!
Affordability of Loops & Threads Plush
Getting to the nitty gritty, is this yarn a good value for the budget yarn shopper?
| Yarn | Price | Price/Yd |
| --- | --- | --- |
| 1 Skein Regular Price | $11.99 | $0.022/yard |
| 1 Skein on Clearance | $6.97 | $0.013/yard |
| Project | Reg. Price | Sale Price |
| --- | --- | --- |
| A Large Scarf (1 Skeins) | $11.99 | $6.97 |
| Small Sweater (2 skeins) | $23.98 | $13.94 |
| Large Sweater (3 skeins) | $35.97 | $20.91 |
If you're looking for a great fluffy, plush yarn, go to your local Michael's and get this at a great clearance price before it's gone! I personally did not see Plush in my local stores until a week or two before it was priced as clearance. I do not know if this means it is a seasonal yarn they may bring back or if this is all there will ever be. I'm sure I don't need to remind you savvy shoppers you can also buy this online and pick it up in store to skip the line! Time is money after all.
Update March 2020 – Alternate Polyester Yarn
I still have no idea if this was a seasonal only yarn, as I've only seen a few skeins left on clearance last time I was in Michael's. In the event it is not seasonal, I do believe I have found a similar yarn. Bergere De France yarns Cocooning looks very similar. Cocooning is comprised of 45% Polyester, 27% Wool, 26% Acrylic. Like Plush, it is a blown polyester yarn, but with a bit more of a "net" than a nylon chain. Bergere De France Cocooning is sold in smaller skeins and is higher priced, but if you just have to have a yarn like this, check it out or the recommended YarnSub substitutes.
---
Featured in this Post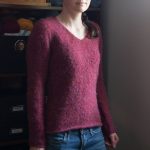 If you're looking for a unique, lightweight yarn for winter accessories and garment, check out this polyester blend yarn from Loops & Threads. Bergere De France Cocooning may be a reasonable substitute, see our March 2020 update to this post.