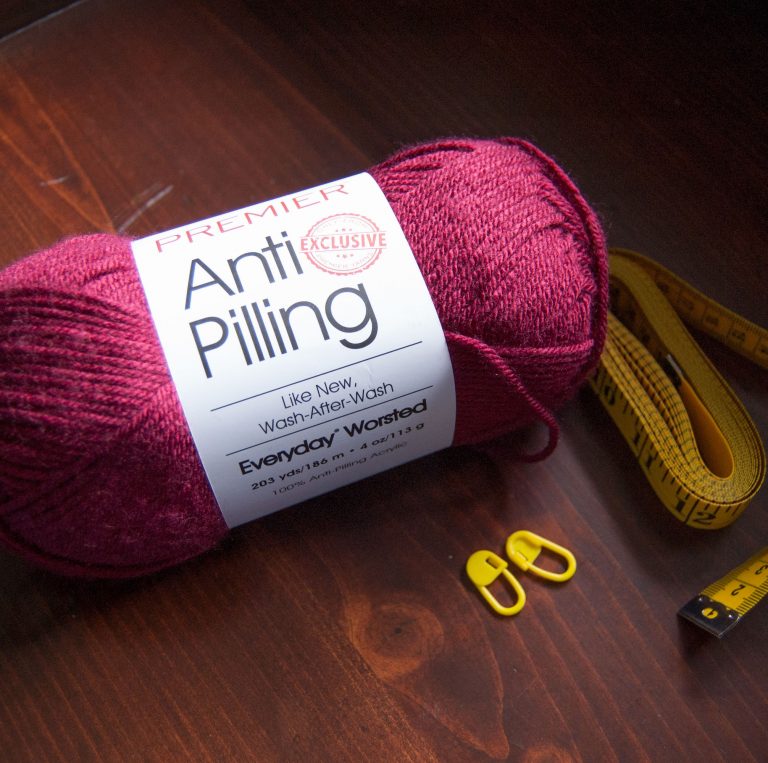 Premier Anti-Pilling Yarn Everyday Worsted
Premier Anti-Pilling Yarn Everyday Worsted
Premier Yarns Anti-Pilling Everyday yarn is a contender in the Ultimate Acrylic Yarn Comparison! I've chosen the Premier Everyday lines (DK & Worsted) not only because of the anti-pilling properties, but it's Class 1 OEKO-Tex Certification. Learn more about the yarn comparison here.
The concept of acrylic anti-pilling yarn came onto my radar a few months back when I was browsing through the Willow Yarns catalog that came in the mail. The catalog contained a two page spread featuring their Wash yarn. The name makes it sound like a rough cotton destined to be used for dishcloths, but at closer examination I saw it was an acrylic. Their description claimed it was more than just an acrylic yarn, stating:
Not all acrylics are created equal! Yarn workhorse Willow Wash combines all the softness of a high-quality acrylic with unique anti-pilling technology, giving projects that "just finished" look wash after wash. In an expansive range perfect for throws and home décor, Willow Wash's exquisite hand and drape will have you fooling all your friends: "This is acrylic? Are you sure?"—just try it and see!
That's a pretty big claim! With "anti-pilling" as a feature on my radar, I began to notice more and more yarns making this claim. Lion Brand Basic Stitch. Loops & Threads Joy DK. The one I want to cover today is Premier Yarns Everyday Worsted.
Premier Yarns Everyday Worsted Anti-Pilling Yarn
I am easily manipulated into purchasing a yarn based on color selection alone. When I saw a Premier Yarns ad in my Facebook feed and clicked through to their website, I fell in love with their available color options. I browsed around, looked at their sale yarns and almost placed an order. I didn't want to commit to so much yarn from a brand I hadn't really tried before.
That's how I ended up on Herrschner's website. They had 3 packs of Premier Yarns Everyday Worsted on sale, not to mention I could order some Willow Wash to compare it to. Both have an amazing set of colors to choose from and high reviews from Ravelers. It is really going to be up to me to try them both and make my own determination about which is best. Eventually I'll have a comparison post for you readers, but for now let's get back to Premier Yarns Everyday Worsted.
If you plug Everyday Worsted into YarnSub.com, you'll see several other anti-pilling yarns (including Willow Wash) listed as alternates, but there are plenty of your standard pilling acrylic yarns listed. It only takes a quick scan of the photos to see that on paper many of these yarns are near identical, but they often look different and may not actually be the same. This aside, their stats accurately list the different weights and yardages of the varying styles of Everyday Worsted:
Solids: 113g (4oz) / 186m (203 yds)
Multis, Heathers & Marls: 100g (3.5oz) / 165m (180 yds)
Affordability of Premier Yarns Everyday Worsted
For our value analysis today we'll be using the yardage of the solids. These yarns retail for $3.99 directly from Premier Yarns, whereas retailers like Joann and Michael's sell for $4.99 regularly.
| Yarn | Price | Price/Yd |
| --- | --- | --- |
| 1 Skein Regular Price | $4.99 | $0.0245/yard |
| 1 Skein w/ 40% Off Coupon | $2.99 | $0.0147/yard |
| Project | Reg. Price | Sale Price |
| --- | --- | --- |
| A Scarf (2 Skeins) | $9.98 | $5.98 |
| Small Sweater (4 skeins) | $19.96 | $11.96 |
| Large Sweater (7 skeins) | $34.93 | $20.93 |
Premier Yarns will occasionally offer bundle deals. But they are typically not quite as good as a 40% off coupon from a local retailer. In total, I got three skeins (value pack) of colorway Pine Green, a single skein of Burgundy and a single skein of Rust.
First Impressions of Premier Yarns Everyday Worsted
Our initial impression of this yarn is that it's soft and well spun. Sometimes when you buy skeins online you can see a halo around the edge reflecting their journey around the warehouse. If an acrylic yarn can be described as "crips", I'd say these skeins looked crisp like a brand new dollar bill. I'm excited to test these out and see how I like them. Come back soon for posts on Premier Yarn Everyday projects and final budget yarn review!
---
Featured in this Post