Schachenmayr Soft & Easy
Schachenmayr Soft & Easy
Schachenmayr Soft & Easy is a contender in the Ultimate Acrylic Yarn Comparison! I chose this yarn because of the overall reputation of the Schachenmayr brand (it's good!) and I wanted to include a decent number of low pill and/or anti-pilling yarns. Soft & Easy fit the criteria! Learn more about the comparison here.
In case it hasn't become abundantly clear, I have a thing for trying something new. Whether it's a new food, a new book or a new yarn, I like to expand my horizons. In that vein, I've started trying yarns that are popular in other countries. Last week it was Stylecraft and King Cole from the UK. Today it is Schachenmayr Soft & Easy from Germany!
The Details of Schachenmayr Soft & Easy Originals
I purchased my 100g skein of Soft & Easy online at LoveCrafts. Each skein contains 257yds of allegedly Aran (Ravelry) or Worsted (LoveCrafts) weight yarn. If you look at the recommended needle size (US 6) and the number of yards in this skein, you can see that this yarn is more of a light worsted weight. To show where this lands on a spectrum, a 100g skein of Lion Brand Basic Stitch Premium contains 219 yards and a 100g skein of King Cole Cherished DK has 273 yards.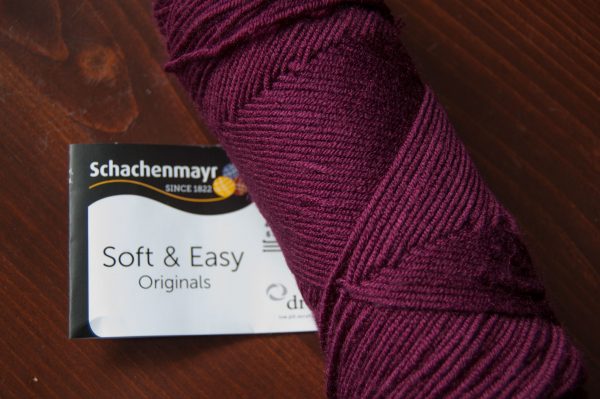 Soft & Easy is made of dralon® low pill acrylic fibers. Dralon manufactures acrylics for bedspreads, sportswear and other uses. According to their website, their dry-spun acrylic "is unrivaled in the market". They have a neat comparison chart for Dralon versus other fibers like polyester and cotton. If you're looking for lightfastness, dralon is a winner! Even though dralon is a German company, this yarn is manufactured in Turkey like many other high quality yarns.
The care icons on the label indicate this yarn is safe to machine wash, but machine drying is NOT recommended.
Affordability of Soft & Easy Originals Yarn
At a price of $4.25/skein, Schachenmayr Soft & Easy is priced pretty affordably from the get go! But you won't see significant sale price drops very often. The best sale price I was able to identify (from a cached Google page) was $3.80 per skein. These are the prices I will be using in my affordability breakdown today.
| Yarn | Price | Price/Yd |
| --- | --- | --- |
| 1 Skein Regular Price | $4.25 | $0.016/yard |
| 1 Skein Sale Price | $3.80 | $0.014/yard |
| Project | Reg. Price | Sale Price |
| --- | --- | --- |
| A Cowl (2 Skeins) | $8.50 | $7.60 |
| Small Sweater (4 skeins) | $17.00 | $15.20 |
| Baby Blanket (6 skeins) | $25.50 | $22.80 |
With a regular price of $0.016/yard, Soft & Easy is more affordable than many of the regular priced yarns we have here in the states. But without the steep discounts that are available on many American brands, you'll really have to do some comparison pricing to get the best deal for your project.
First Impressions of Schachenmayr Soft & Easy
One of the first things I noticed about Soft & Easy originals is that the ply and texture reminded me very much of King Cole Cherished DK. They are both very soft, as is the nature of most S on S ply yarns. But both of these have a tighter ply that has a squishier and bouncier feel than S on S ply yarns like Lion Brand Jeans and KC Smooth (looser ply, more drape).
This is a good reminder that just because yarns have the same type of ply, that does not mean they will always be identical!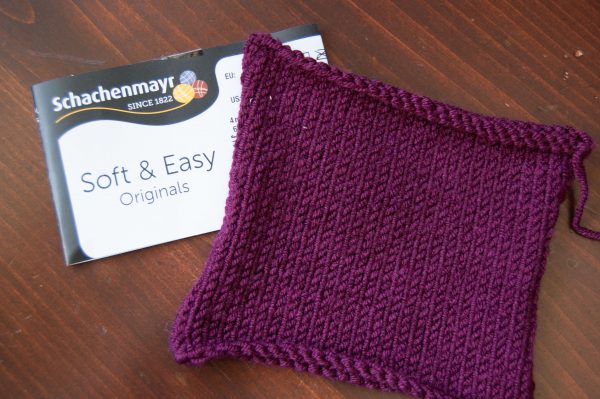 My experience knitting and crocheting Schachenmayr Soft & Easy was also very similar to King Cole Cherished DK. Crocheting with this yarn was a bit more difficult (due to the small individual plies) and working with them becomes a little more difficult after frogging. But overall Soft & Easy and Cherished DK were a joy to knit with. Splitting only became a (small) concern after I'd already frogged and swatched for the third time.
I'm tempted to say that Schachenmayr Soft & Easy is an identical yarn to King Cole Cherished DK. I have no way to prove or disprove this one way or another, but if I hadn't chosen different colors I would not be able to tell them apart! It'll be fun to see if they continue to perform the same through the rest of the Ultimate Acrylic Yarn Comparison.
Have you used Schachenmayr yarns? Share your thoughts in the Budget Yarnaholics group on Facebook!
---
Featured in this Post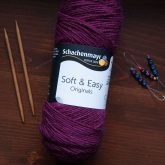 Find Soft & Easy Originals yarn online at LoveCrafts! This super soft and squishy yarn has an S on S ply with "unrivaled" anti-pilling fibers – perfect for those baby & kid knitting projects!