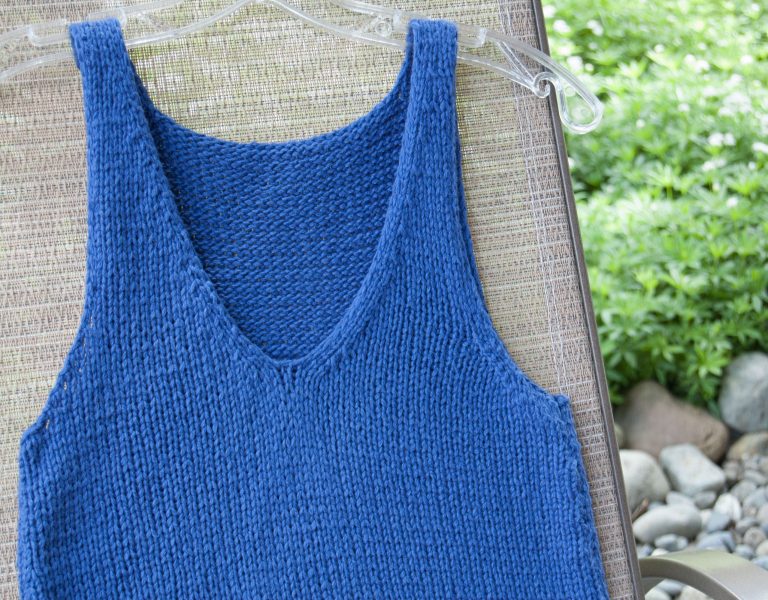 Ginger Tank in Loops & Threads Creme Cotton
Ginger Tank in Loops & Threads Creme Cotton
If the bug hasn't already bit you, it's time to start knitting summer garments! Honestly, I'm a little late, but that's because summer doesn't start until after July 4th. That's the saying in the Seattle area anyway. My first summer garment for the year is Ginger by Kim Hargreaves, a reversible tank top. If you're looking for a Loops and Threads Creme Cotton pattern, Ginger is a great fit! Find links to download the pattern and purchase the yarn at the bottom of today's post!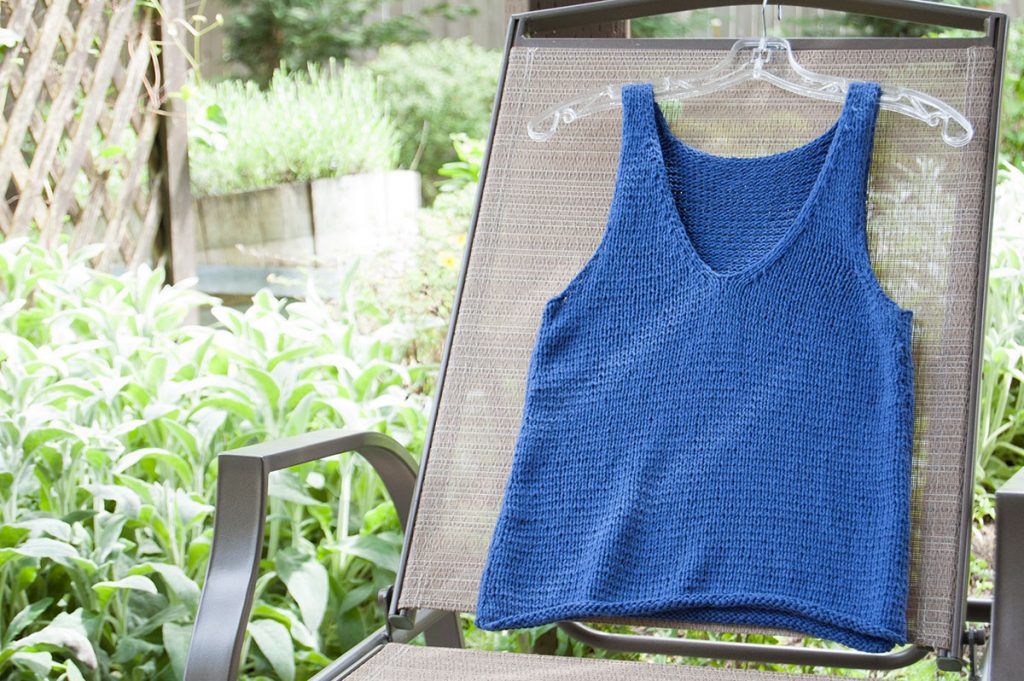 Ginger: Great Practice for Seamed Garments
I stumbled upon Ginger when I was searching Ravelry for Aran weight sleeveless tops. I'd just bought a single skein of Loops & Threads Creme cotton and I needed a suitable pattern.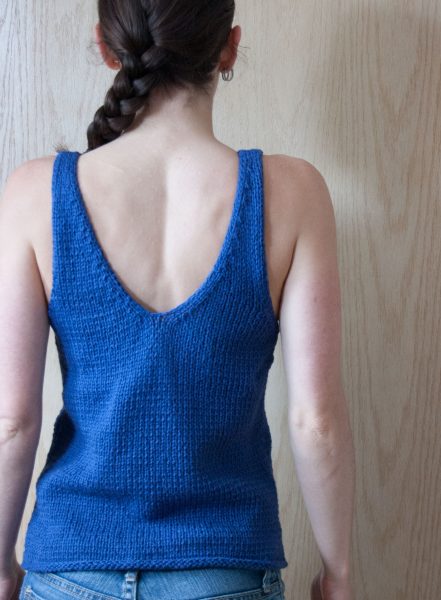 I nearly passed over Ginger due to the fact it is a seamed garment (ack! seams!). Seams aren't that scary, and I simply need more practice. What better practice than a simple tank? Because of the seamed construction, both the front and back panels of Ginger are knit back and forth. Yes, that means knitting AND purling.
My biggest challenge with seamed garments isn't so much the seams, as that my tension for knitting and purling is different. As a result, I get "lines" in my stockinette that are rather unsightly. The common solution to this problem is to use two different sized knitting needles. If you go up a needle size on your tighter stitch type, the theory is it should match.
I tried this little tip and swapped one of my needles. Thankfully this technique improved the look of my swatch enough that the lines disappeared after blocking. Mostly.
Knitting Techniques from the Ginger Knitting Pattern
Honestly, don't knit the Ginger tank unless you're ready to ask for help in the Ravelry forums! Many of the directions for when to increase and decrease are confusing and require multiple reads. When in doubt, just make sure you remember to do the same thing on each piece/side so at least everything is symmetrical! I'm not entirely sure I followed the pattern correctly, but I have a garment I'm pleased with because I used my handy dandy digital stitch counter to keep track of everything.
In spite of the difficulty of this pattern, there were two really great techniques I picked up.
First, both the front and back pieces start out using a smaller needle size to knit the first inch or so of the garment. Although there are no notes on this online, but I expect this slightly tighter bottom edge helps the garment keep it's shape and not become too wide. I actually forgot to do this on the back panel, whoops!
Second, I'm no stranger to knitting clean edges by slipping the first (or last) stitch. But the method described in Ginger has you pick up the strand between the last and second to last stitch. You then knit it together with the final stitch in the following row once you turn your work. This tightens up the edges nicely, but with a slightly more professional look. One note: it's easy to accidentally drop stitches when working this edge. Always check both sides of your work after completing this edge, it took several rows for me to spot the stitches I'd dropped.
Yarn of Choice: Loops & Threads Creme Cotton
I never would have thought to use an aran weight yarn on a light summer tank. If you had told me you were doing this, I would have immediately thought it would be heavy and far too hot to wear. Honestly, finding the right Loops and Threads Creme Cotton pattern took quite a bit of digging.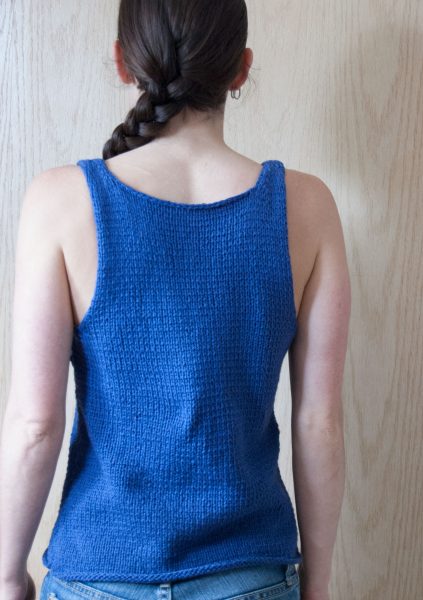 If you recall my first post about Creme Cotton, I was surprised by how lightweight my swatch felt. I bring this up again because I am truly shocked by how lightweight my Ginger top feels, in spite of being knit in aran weight cotton yarn.
My only concern at this point is those darn care instructions. Creme Cotton says Hand Wash Cold, Dry flat. I will do this with my tank for now, but I intend on sending my swatch through the washer and dryer to see EXACTLY what happens if you ignore the care instructions. Be sure to check back for the Loops & Threads Creme Cotton Yarn review to find out!
Conclusion
Overall this is a really cute pattern and it's very reminiscent of 2002. You can see from the pictures that the the armpits are on the large side. This isn't just me not being able to follow the pattern, others on Ravelry made the same comment. Be prepared for your bra to sneak a peek every now and then, or cast off fewer stitches at the armpit. Additionally, I made the "V" a little less deep than the pattern calls for – you can choose to separate the back sooner or later, just know you'll have to watch the length of your straps closely. You will no longer be able to follow the pattern exactly as written.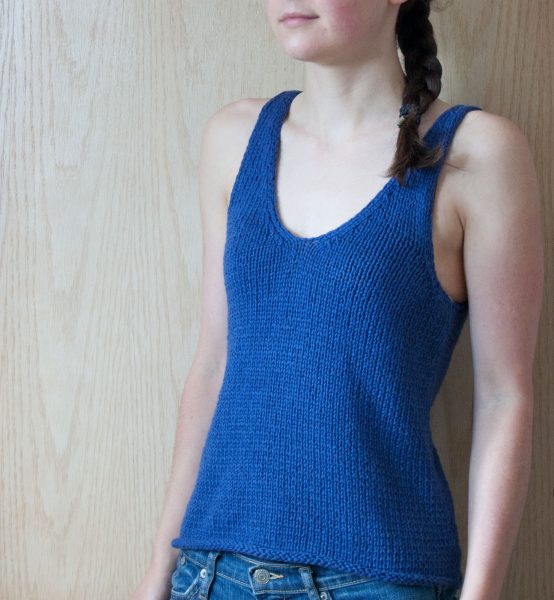 Although I would not knit Ginger again as written, I am definitely going to use it as a guide to creating my own tank tops in the future. I may re-knit this to have the deep "V" on both sides and shrink down the armpit size while I'm at it.
---
Featured in this Post