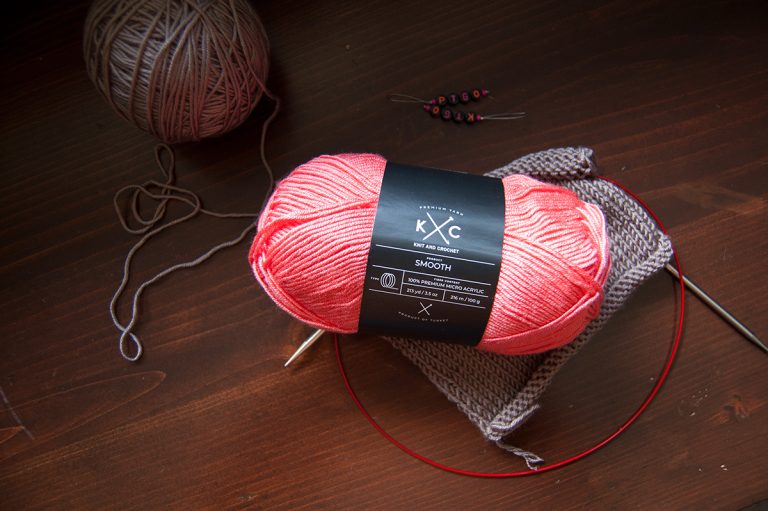 KC Smooth Yarn – Premium Micro Acrylic
KC Smooth Yarn – Premium Micro Acrylic
KC Smooth yarn is a contender in the Ultimate Acrylic Yarn Comparison! I chose to include Knit & Crochet Smooth because it is the first budget micro-acrylic yarn I have encountered. And I just have to know how micro-acrylic measures up to regular acrylic in a data driven comparison! Learn more about the yarn comparison here.
If you're here, that means you have survived the quarantine all the way until May! Social distancing is working so lets keep hanging in there. Virtual high-fives all around. I am patting myself on the back for meeting this milestone by (of course) buying some new yarn. Have you seen the latest new yarn at Joann? KC Smooth Yarn is the 100% premium micro acrylic yarn I will be telling you about today.
KC Smooth Premium Acrylic Yarn
There is very little information about KC Smooth online. I tried Ravelry, I tried Yarn Sub — and nothing yet. The KC (Knit And Crochet) brand is a new Joann store brand to join their Big Twist and Buttercream lines. I ordered two skeins for curbside pickup at my local Joann during their 10% off select yarn sale. This isn't a huge discount, but I get the feeling they are gauging customer interest right now.
When I felt KC Smooth, I immediately thought of Lion Brand Jeans. It has that same luxurious softness that made me willing to try acrylic yarns again. I unwound the end of my skein to compare and it appears to be an S on S ply — just like LB Jeans! No wonder it's so dang soft.
Affordability of KC Smooth Yarn
Each 100g skein has 213 yards. As a lightweight (3) yarn, it errs on the side of sport weight rather than a DK weight. If you have a pattern calling for either sport or DK, you can probably get gauge with this yarn by making a simple needle change.
Although I haven't seen a regular sale on Smooth yet, you can always purchase this yarn with your standard Joann's 40% Off Regular Priced item coupon. That is the sale price I'll be using in today's breakdown.
| Yarn | Price | Price/Yd |
| --- | --- | --- |
| 1 Skein Regular Price | $4.99 | $0.023/yd |
| 1 Skein w/ 40% Off Sale | $2.99 | $0.014/yd |
| Project | Reg. Price | 40% Off |
| --- | --- | --- |
| A Cowl (2 Skeins) | $9.98 | $5.98 |
| Small Sweater (4 skeins) | $19.96 | $11.96 |
| Large Cardigan (6 skeins) | $29.94 | $17.94 |
Smooth is priced comparably to your Lion Brand and Premier Yarns premium acrylics. KC (Knit & Crochet) appears to be the perfect new addition to Joann store brand yarns. Filling the gap between the existing Joann brands, it's higher quality than the budget Big Twist and more accessible than the natural fiber heavy Buttercream Luxe Craft.
First Impressions of KC Smooth Yarn
The first thing I noticed about KC Smooth was the gorgeous colorways. The yarn I picked up at the store matched what I saw online quite well, and the various shades are very modern and on point! I bought skeins in Coral and Gray Brown and both are absolutely perfect. Even the "Light Green" colorway is a modern and wearable shade.
Secondly, Smooth is the first yarn I've seen advertised as "premium micro acrylic", so I obviously had to google what that meant. Just like any microfiber fabric, a microfiber acrylic should be more breathable than your standard acrylic yarn. The finer structure not only gives it the softness, but the breathability you would see in natural fibers. But with smaller fibers comes more heat sensitivity. It is not recommended that microfiber yarns be sent through a machine dryer, which concurs with the KC Smooth Label. Lay flat to dry!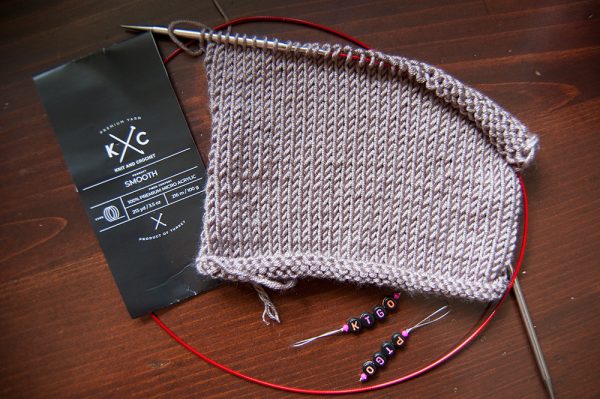 Finally, the ply on KC Smooth is a little looser than Lion Brand Jeans. When I cast on using my swatch, the ply began to unravel. This happens to me when doing the long tail cast on, regardless of the quality of the yarn. But I'll admit I was scared Smooth would be a splitty mess. Thankfully the rest of the swatch knit just fine with little to no splitting or frustration. And did I mention it is SOFT?!?! My swatch feels so lovely.
Hopefully this gives you a good enough first impression to decide whether or not to buy your own KC Smooth! Stay tuned to see how it holds up in a full size project and definitely don't miss the final KC Smooth yarn review!
UPDATE, July 2020: KC Smooth Durability
I haven't yet started a project with this yarn because my all my knitting plans have been completely re-prioritized. Why? My sister is having a baby! Instead of making a beautiful cowl like I planned, I have to start baby blankets and sweaters for the new family addition.
Because of this delay, I am going to share a durability update on this yarn rather than make you all wait for the final review. Below is a photo of my KC Smooth swatch after being frogged twice (so knit/crocheted 3 times) AND being washed 15 times.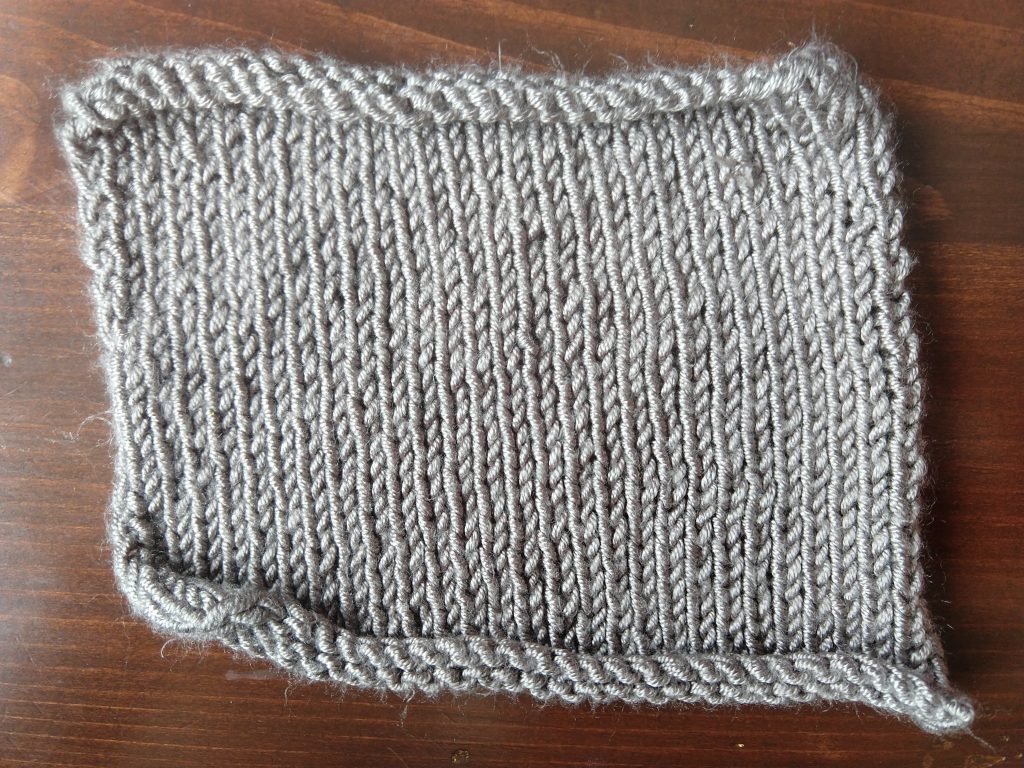 I am sending this through the dryer and NOT following the care instructions! With that in mind, the yarn is holding up very well! Because I'm also doing the Ultimate Acrylic Yarn Comparison right now, I can tell you this is holding up better than certain value yarns.
I'm pleased enough that when KC Smooth went on sale yesterday for 40% off, I bought several more skeins for a sweater. The drape of this yarn is so amazing, I can't wait to knit a garment in this yarn! If it hasn't already been stated before: you won't experience the same amazing drape in crochet, it's the nature of the craft.
Hope this update helps those of you wanting to buy this yarn! Please use my affiliate links below when purchasing to help support my blog. 🙂
---
Featured in this Post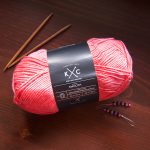 Find KC Smooth exclusively at Joann stores! I'll be knitting a project with this yarn soon enough and my test swatch is going to immediately begin durability testing. Stay tuned for the KC Smooth yarn review!