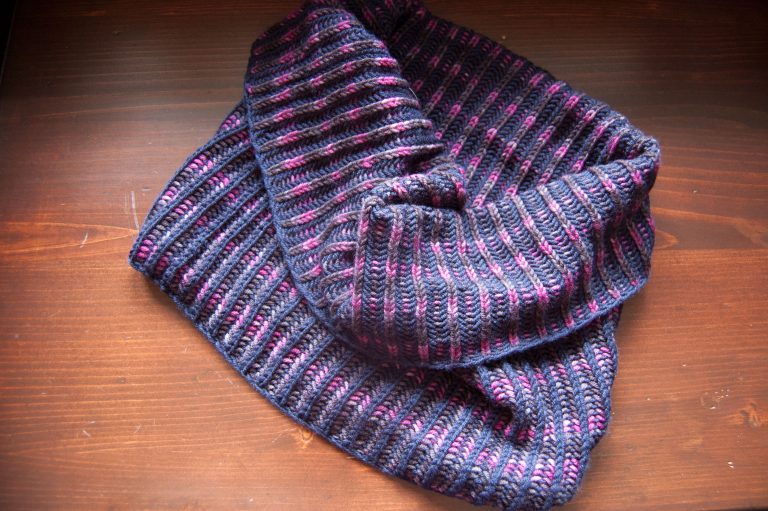 Kodiak Cowl in Lion Brand Anya
Kodiak Cowl in Lion Brand Anya
The Seattle weather has me on an emotional roller coaster. Just a few weeks back I was posting about summer yarns & summer projects. I was feeling so alive! But now the rain is back and I feel like staying in bed. Although the temperature hasn't dropped significantly, it again feels cool enough to wear a hat and a cowl when I go out.
We'll get back to summery weather again soon, but in the meantime I have a gorgeous cool weather project to share with you today. It is a free cowl knitting pattern — the Kodiak Cowl by The Blue Mouse! Find the link to this pattern at the bottom of today's post.
About the Kodiak Cowl
The Kodiak cowl is the second step along my journey to learn brioche. Although it sounds scarier than it actually is, Kodiak is a two color brioche pattern. Bonus: The Blue Mouse has a great video tutorial to accompany this pattern. All you need are 55 yards (depending on yarn/gauge) of each color you'd like to use and you can whip up this cowl.
If you've never ventured into brioche and you feel even remotely intimidated (I sure did), don't make this your very first project. But do make the Kodiak cowl your second! Although Kodiak is very easy, the nature of a cowl shows off both sides of your work. Like most brioche, the Kodiak Cowl is actually reversible! It is extra important to check both sides of your work for mistakes, which is why I don't recommend this as your very first. A hat makes a great first brioche project.
Thoughts on Color and Yarn Selection
I really wanted to use my skein of Lion Brand Anya for this project, but it took a little while to find the correct yarn pairing for it. I originally thought I would use a skein of black Chic Sheep. But the yarn was too thick and the color contrast too low.
Then I tried some Lion Brand Superwash Merino. It was the perfect fiber match and looked amazing, in spite of being a little lighter weight. I had grabbed a skein of Mahogany, but after knitting a few rows I realized how many blue undertones there were in my skein of Anya (colorway: bruise). Brown just wasn't going to work. I finally settled on the remaining Superwash Merino I had from my Leaves Begin to Fall Hat in Navy. It was the perfect match, and I was lucky enough to have the right yardage!
The takeaway here is don't be afraid to start over if you're not quite happy with your color combinations. It wasn't until my third try that I found the correct pairing.
Making Mistakes in Brioche Knitting
Brioche mistakes can be quite obvious and leave visible strands that are easy to snag. I was about 4 inches into my cowl when I noticed some serious mistakes a whole two inches back! On the front side the mistake didn't look terrible, but when I check the back side of the work it looked horrendous.
There were multiple mistakes I had to fix and fortunately I found the perfect video from Kingfisher Knits to help me in my time of need. The repairs turned out to be easy. With only a crochet hook, you can frog a single column of stitches and hook each strand back into it's rightful place. I continued to check (and correct) mistakes every few inches with a final review before I bound off.
When binding off, The Blue Mouse recommends going up a needle size or two to allow it to stretch with your fabric. The cowl gets blocked to final dimensions of 26″ around and 12.5″ tall. It really needs to stretch! I actually went up 3 needle sizes because I am such a tight knitter.
Conclusion – I Love the Kodiak Cowl
The Kodiak Cowl is one of my favorite projects to date. It's a great way to use multicolored yarns and those hand painted skeins in an elegant manner. Kodiak looks way more complicated than it actually is and would make an excellent gift knit!
---
Featured in this Post