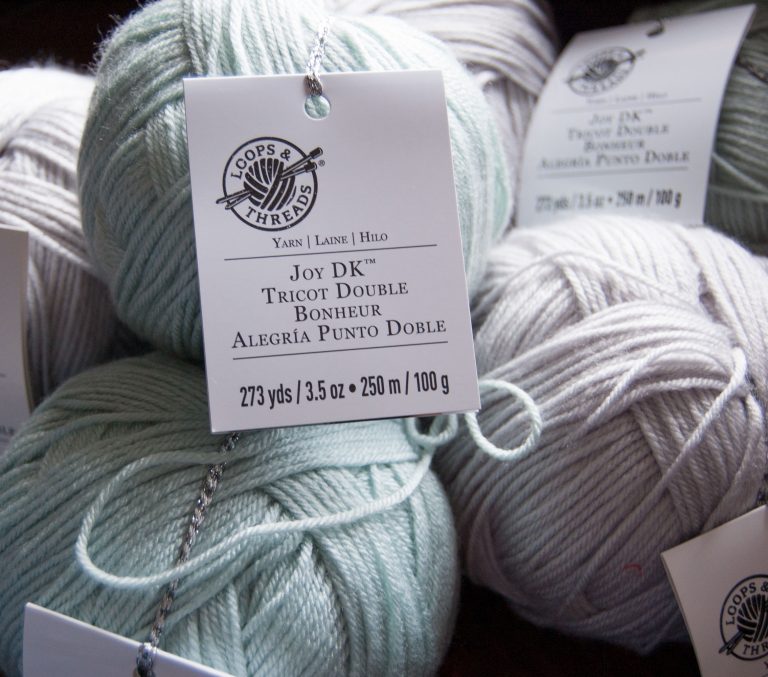 Loops & Threads Joy DK
Loops & Threads Joy DK
Loops & Threads Joy DK is a contender in the Ultimate Acrylic Yarn Comparison! It has been chosen because there aren't many DK weight yarns available from big box store brands. Additionally, it is an anti-pilling yarn and has Class 1 OEKO-Tex Certification. Learn more about the comparison here.
If you're a regular shopper at Michael's stores, I'm sure you've seen Loops & Threads Joy DK before. If you haven't already tried it, today's post will give you an introduction to this store brand DK weight yarn!
L&T Joy DK Yarn Details
If we start with the yarn label, you can see that Joy DK is an 100% Anti-pilling acrylic. What does this mean? Anti-pilling yarns are specifically designed to resist pilling. If pills do form, they will come off on their own in the wash! You won't need to get out a razor or find a special pill removal tool to make your sweaters look like new.
Coming in at a light weight (3), a single 100g skein will provide 273 yards of knitting joy. Like most acrylics, it is safe to run Joy DK through the washer and dryer! Be sure to machine wash warm and tumble dry low.
Michael's offers this yarn in 14 solid colors, ranging from a coral pink to grass greens. Many of the shades are pastels or neutrals. The boldest colors are Ruby, Iris, Blue Lagoon, Leaf and Black. The limited color selection won't satisfy the pickiest of knitters, but the available selection is suitable for those who love subtle color.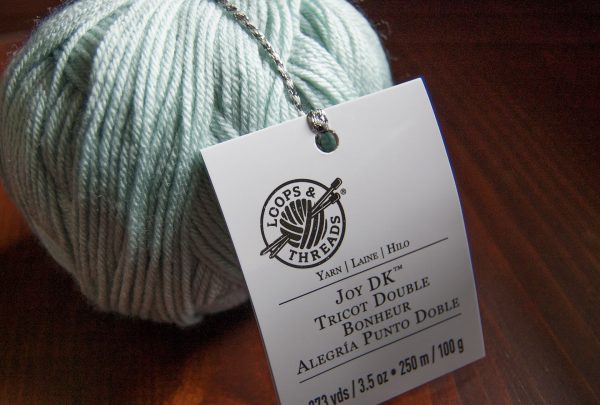 If you love striping yarn, there are 7 multi colorways as well!
Affordability of Loops & Threads Joy DK
Joy DK is a very affordable yarn. It is very easy to find it on a sale price (particularly during the fall months), or you can always use the readily available Michael's 40% off regular price coupon. For those of you who love crunching the numbers, let me show you just how affordable Joy DK can be!
| Yarn | Price | Price/Yd |
| --- | --- | --- |
| 1 Skein Regular Price | $4.49 | $0.016/yard |
| 1 Skein Discount Price | $2.69 | $0.009/yard |
| Project | Reg. Price | Sale Price |
| --- | --- | --- |
| A Shawl (2 Skeins) | $8.98 | $5.38 |
| Small Cardigan (4 skeins) | $17.96 | $10.76 |
| Large Sweater (6 skeins) | $26.94 | $16.14 |
Did I mention this yarn was affordable? Considering what you're getting (an OKEO-TEX certified, anti-pilling acrylic), Joy DK is an AMAZING deal!
First Impressions of Joy DK
When you first look at this yarn, it's hard not to notice the unusual skein construction. I have seen only one other yarn wound in such a way, and that is Premier Yarn's Luna.
Because of the unusual skein construction, there are some less than kind reviews of this yarn online. Many crafters have attempted to knit or crochet straight from the ball and ended up with a tangled mess. I always wind my yarn into a ball before I start a project, and I refuse to let the ball construction or complaints of "tangled skeins" deter me.
I'm not always the biggest fans of Loops & Threads acrylic yarns. I was pleasantly surprised when I swatched Joy DK. It was soft and very easy to work with. I frogged this yarn at least 3 times and it held up incredibly well to all the abuse!
I have been doing lots of swatching as part of my Ultimate Acrylic Yarn Comparison and it knit up just as nicely as one of my favorite yarns, Premier Yarns Anti-Pilling Everyday.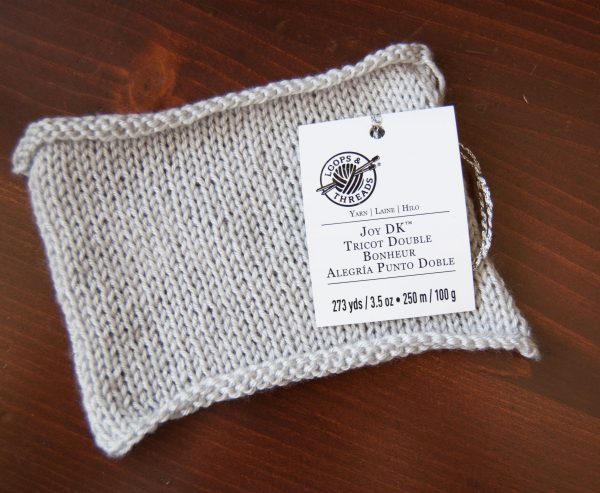 Quite frankly, I would bet money that Joy DK is from the same manufacturer as Premier Everyday and Luna. It feels like the same yarn and appears to have the same quality! Also, the Premier website says "Anti-pilling acrylic is a fiber preparation available in the US exclusively through Premier® Yarns."
Have you used Loops & Threads Joy DK? Share your projects with me on Instagram or Facebook!
---
Featured in this Post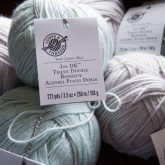 You can find Joy DK in solid and multi colorways at Michael's stores. This OKEO-TEX certified anti-pilling yarn is perfect for baby knits or those with sensitive skin.