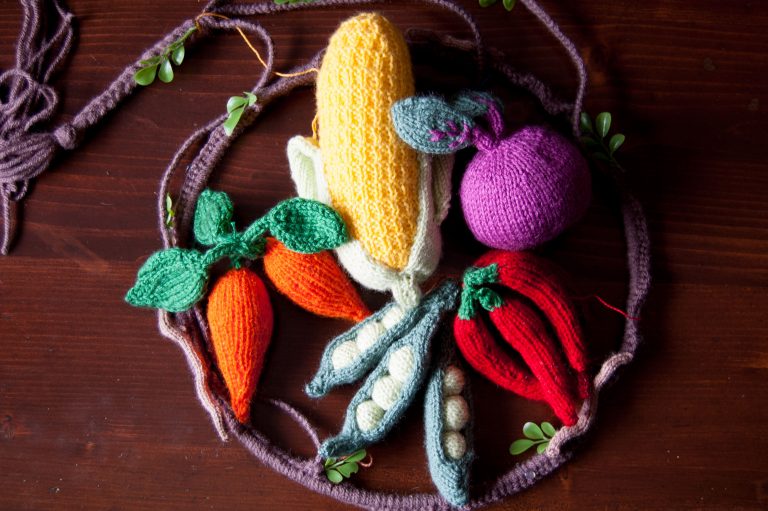 Quirky Vegetable Baby Mobile in Paintbox Simply DK
Quirky Vegetable Baby Mobile in Paintbox Simply DK
Are you ready to see a SUPER CUTE baby knitting project? Boy have I got the project for you! Most baby mobiles have stars, hearts and other simple shapes that quite frankly are just a little boring. My favorite mobiles have cute little forest critters, but the yarns I bought for the Ultimate Acrylic Yarn Comparison are much too bright for that. So what kind of mobile do you make for the upcoming baby of your health conscious sister? A knit vegetable baby mobile!
Amanda Berry is an amazing pattern designer that designs knitted toys. She has over 20 different vegetable knitting patterns that were released in 2020. I chose five veggies that would provide a range of colors and shapes perfect for a baby mobile.
A Compilation of Knit Veggie Patterns by Amanda Berry
First, I chose the carrot pattern to use some bright orange Paintbox Simply DK I had purchased. Overall, the carrot may have been the easiest vegetable to knit. It wasn't too large or too small, and the increases were pretty consistent.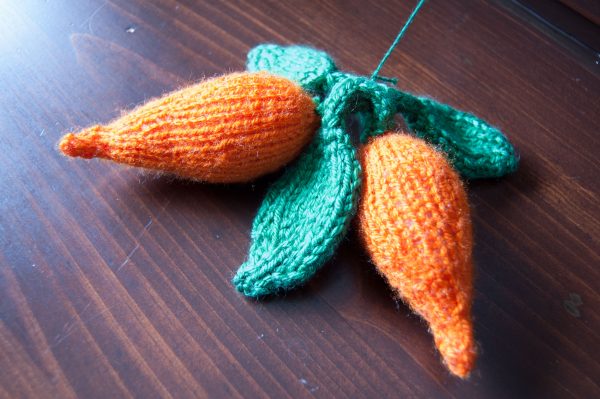 Second, I chose Amanda's Chili Pepper pattern. Although a single pepper is a similar shape to the carrot, I chose to knit multiple peppers and string them together. The end result resembled those pepper bunches you saw in 1990's era Mexican restaurants! The visual differentiation was perfect.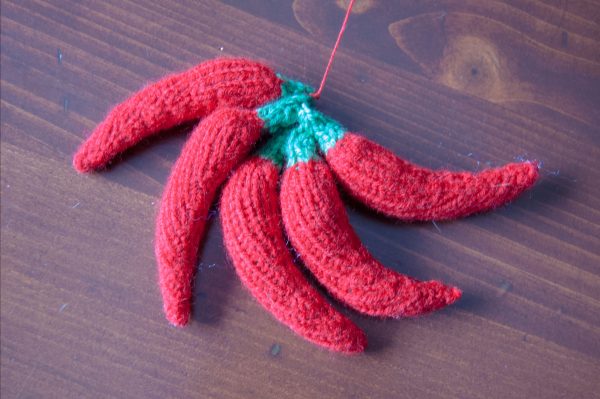 I had green Paintbox Simply DK to use in addition some lighter green King Cole Cherished DK. The two were absolutely perfect for the Pea Pod pattern. My only note on knitting the pea pod is on it's size. It is larger than you'd expect it to be! If I were to knit these again I would consider adjusting the sizing.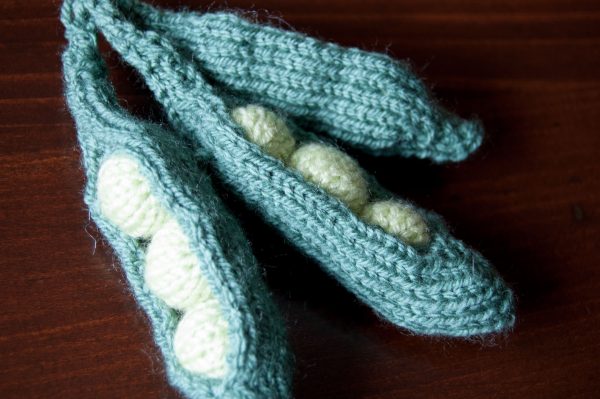 I knew that I needed another brightly colored root vegetable. Without hesitation, I chose the beet pattern next. I had just enough of my magenta Lion Brand Basic Stitch Premium to make a beet, even after using most of it in the Nya Mosaic Crochet Blanket. My favorite thing about the beet pattern is the detail on the leaves.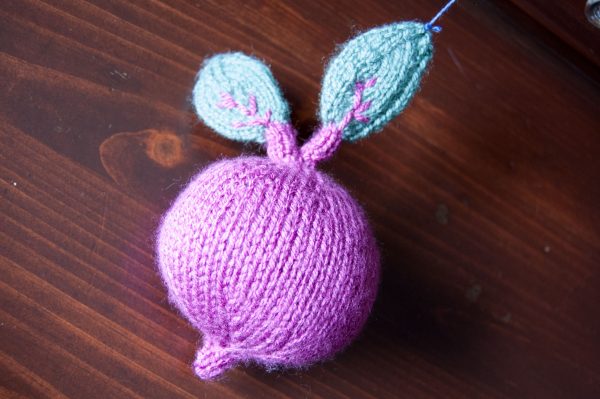 Last, but not least, I chose the corn pattern to use my bright yellow Knit Picks Brava DK! This is by far the largest of the vegetables for this mobile so I hung it in the center to maintain balance. The textured stitch for the cob is easy to master and absolutely perfect. I may have to use this stitch combination in other projects!
Putting The Vegetable Baby Mobile Together
With all the vegetables in hand, I chose colored embroidery thread to tie them to an embroidery hoop. But before I attached them, I did a series of single crochets around the hoop to disguise it's identity. For this I used my brown Premier Basix.
I had to jazz the mobile up just a little bit more. Digging out some floral wire and my Stylecraft Special DK, I used basic i-cord knitting to make little worms to travel across the top. I used hot glue to attach the worms and some leftover greenery from a floral project. It was just the right finishing touch!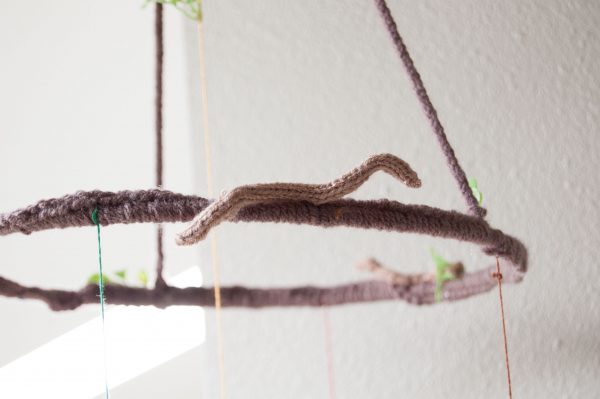 I used more Premier Basix to create braided strands that I used to create the final strands to hang the mobile. I finished the mobile just in time to see my sister last September.
The Finished Vegetable Baby Mobile
I'm super thrilled with how the vegetable baby mobile turned out. I told my sister that when Noelle is older, she is welcome to dismantle the mobile and allow her to play with the vegetables like toys, as the patterns originally intend. In the meantime, it'll be super cute in my niece's nursery.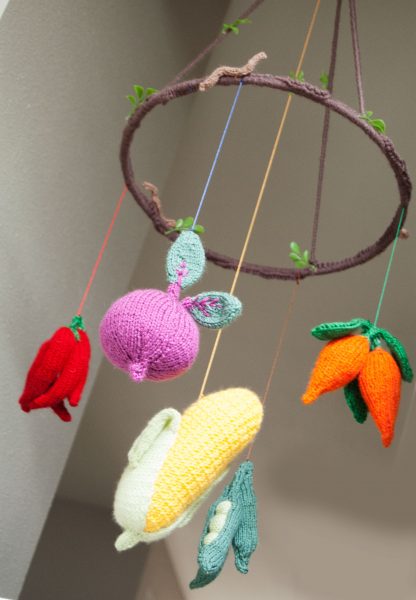 Do you have a favorite knit baby mobile pattern? Please share them in the Budget Yarnaholics group on Facebook!
---
Featured in this Post